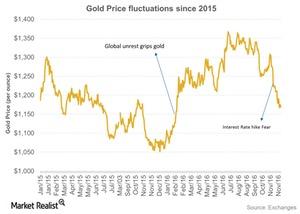 Why Did Gold Fluctuate in 2016?
Trump's victory and gold
Gold prices for February expiration fell on the last trading day of the year. Gold fell 0.53% and closed at $1,152 per ounce on December 30. Gold prices broke a three-year losing streak and rose 9.8% for 2016.
The beginning of 2016 was rather turbulent for gold. Safe-haven bids initially drove prices higher because safe-haven demand was strong. During the last quarter, prices kept falling due to the interest rate hike in December 2016. The election of Donald Trump also bought some positive news for precious metals. Initially, investors kept hoping that the demand for gold would increase. Uncertainty might have increased in the market due to Trump's win. However, the opposite took place. Trump proposed to increase the spending.
Another important phenomenon that helped gold prices rise was the Brexit vote. It spurred investors' flight to safety. Gold touched its two-year peak in July as the United Kingdom walked out of the European Union. Gold prices fell to a ten-month low on December 15, 2016.
Precious metals were also influenced by fluctuations in the US dollar. In the next part, we'll discuss how the US dollar impacts precious metals.
Article continues below advertisement
Funds and miners
Changes in precious metals were also observed in precious metal–based funds like the iShares Gold Trust (IAU) and the iShares Silver Trust (SLV). These two funds closely track gold and silver, respectively. The mining shares that also suffered due to the fall in precious metals include Gold Fields (GFI), Sibanye Gold (SBGL), Alamos Gold (AGI), and First Majestic Silver (AG).