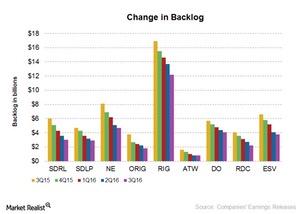 Offshore Drillers: How Their Backlogs Are Rapidly Declining
Backlogs
The offshore drilling (OIH) industry works on contracts that range from a few months to several years. These contracts specify the time frame and day rate awarded to a rig.
A company's backlog is calculated as the predetermined contracted day rate multiplied by the remaining contract duration. Backlog often indicates where future revenues might be.
Article continues below advertisement
Changes in backlogs
It's important to see how a company's backlog has changed over time. A steeply declining backlog suggests that a company is eating up its backlog faster than it can replenish it with new contracts, which isn't a healthy sign. So which company's backlog has fallen the most, and which one has fallen the least?
The offshore drilling industry has been facing a downturn for more than a year. The past year was characterized by low day rates and few or no new drilling contracts for the industry. Companies are alive mostly due to their earlier contracts, but their backlogs are falling steeply.
Compared to a year ago, the backlogs for Ocean Rig (ORIG), Seadrill (SDRL), and Atwood Oceanics (ATW) have fallen the most, by 53.0%, 50.0%, and 50.0%, respectively. We can assume that these companies are relying on their earlier contracts, which are eating up backlogs faster than they can replenish them.
Backlogs for Transocean and Diamond Offshore Drilling (DO) from last year have fallen 28.0% each, the least among their peers.
Although a few companies managed to secure one or two contracts in the third quarter of 2016, none of these companies reported higher backlogs at the end of 3Q16 compared to the previous quarter.
Ensco (ESV), which secured several contracts, especially for its jack-ups, saw its backlog fall a mere 7.0%, the lowest among its peers.
Seadrill Partners (SDLP) has secured a three-well contract, which added $16.0 million to its backlog. However, the company received a notice of a force majeure from its client Tullow Oil for its West Leo drilling contract. The company's backlog has fallen 8.0% from the previous quarter.
Backlogs for Rowan Companies (RDC), Seadrill, and Ocean Rig have fallen the most, at 19.0%, 17.0%, and 18.0%, respectively.