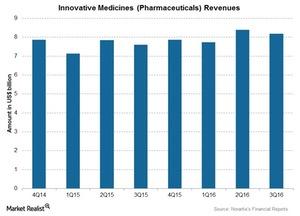 Novartis's 4Q16 Estimates: Innovative Medicines Segment
Innovative Medicines segment
Novartis's (NVS) Innovative Medicines segment, formerly referred to as the Pharmaceutical segment, includes the research, development, manufacturing, distribution, and sales of patented prescription drugs around the world.
This segment consists of products for therapeutic areas including oncology, cardio-metabolic, immunology, dermatology, retina, respiratory, neuroscience, and established medicines.
The overall contribution of the Innovative Medicines segment is ~67% of Novartis's total revenues.
Article continues below advertisement
Performance of key Innovative Medicines products
Novartis's (NVS) growth products include Gilenya, Tasigna, Afinitor, Galvus, a combination of Mekinist and Tafinlar, Promacta and Revolade, COPD products like Ultibro Breezhaler, and new products like Cosentyx. These products are expected to report growth in 4Q16.
Gilenya is an oral therapy for multiple sclerosis. Due to the increased demand for Gilenya, its revenues are expected to increase to over $800 million in 4Q16. Gilenya competes with Biogen's (BIIB) Tecfidera and Sanofi's (SNY) Aubagio.
Tasigna, used in the treatment of chronic myeloid leukemia, is expected to report over $450 million in revenues for 4Q16. Tasigna competes with Pfizer's (PFE) Bosulif.
Medicines losing market share
Many pharmaceutical products are exposed to competition due to patent expiry or better products on the markets, and they are expected to report a decline in revenues during 4Q16. Some of the key products whose revenues are expected to decline include Gleevec, Afinitor, Lucentis, Exelon Patch, and Exforge.
Gleevec, Novartis's blockbuster drug, is used in the treatment of chronic myeloid leukemia. Gleevec is expected to report a decline in revenues for 4Q16.
Afinitor is an MTOR inhibitor used for the treatment of various types of cancer, including breast cancer and kidney cancer. Analysts estimate a decrease in Afinitor revenues due to the new treatment options for advanced breast cancer and renal cell carcinoma. Afinitor competes with Bristol-Myers Squibb's (BMY) Opdivo.
Lucentis is expected to report a decline in revenues due to the competition. Lucentis is a Genentech (DNA) product, while Novartis holds its ex-US commercial rights.
Investors can also consider ETFs like the PowerShares International Dividend Achievers ETF (PID), which holds 1.1% of its total assets in Novartis.