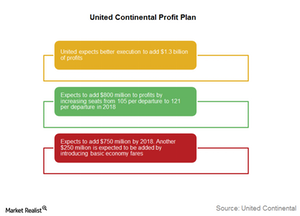 How Does United Continental Plan to Improve Margins?
Profit plan
Historically, United Continental (UAL) has lagged peers Delta Air Lines (DAL) and American Airlines (AAL) in margin performance. Of course, none of the players are even close to niche player Alaska Air (ALK) margins. United now plans to bridge the profit gap with the two legacy players by adding $3.1 billion to its profits by 2018.
Article continues below advertisement
Better execution
Execution is the key to success of any plan, and United seems to have taken this to heart. Better execution is itself expected to yield $1.3 billion of profits.
About $500 million of this is expected to come from revenue growth and management of United's MileagePlus loyalty program. Another $300 million is expected to come from higher operational reliability. This would include reducing costs from rebooking passengers on canceled flights. Another $500 million is expected to come from UAL's meticulous cost management (project quality) implemented in 2013, which includes reduced maintenance and supplier costs and new technology.
Seat addition
United expects to add $800 million to profits by increasing seats from 105 per departure to 121 per departure in 2018. This will be done by upgrading fleets (replacing its 50-seat planes with 120-130 seat planes) and by adding seats to some of its existing planes.
Article continues below advertisement
Customer segmentation
Much of the planned seat addition will be in the First Class (30% growth) and extra-legroom seat (20% growth) capacity. This is expected to add $750 million by 2018. Another $250 million is expected to be added by introducing basic economy fares.
What to expect
United's new labor contract will add to its cost. Also, increasing fuel prices will add to margin pressure. All together, successfully implementing this plan is going to be a tough battle for United.
UAL forms 1.4% of the PowerShares Dynamic Large Cap Value Portfolio (PWV).