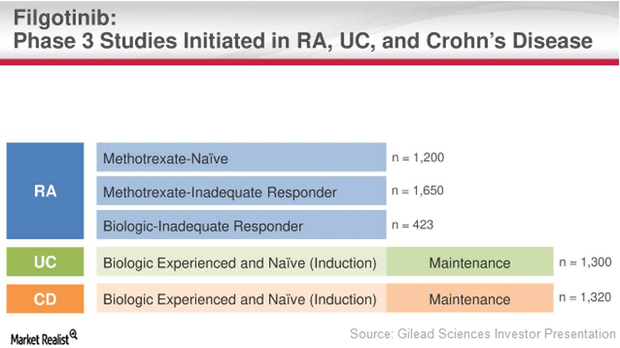 Gilead Sciences Plans to Diversify into the Oncology Sector
By Margaret Patrick

Jan. 31 2017, Updated 10:35 a.m. ET
Trial results
On November 16, 2016, Gilead Sciences (GILD) reported mixed results from two Phase 3 trials that compared a Janus kinase (or JAK) inhibitor, momelotinib with ruxolitinib, in patients with myelofibrosis.
While momelotinib managed to meet its primary endpoint of non-inferiority to ruxolitinib in the first Phase 3 trial, it failed to demonstrate superiority in the second Phase 3 trial, where patients were previously treated with ruxolitinib. Gilead Sciences has not yet decided whether it wants to continue exploring this investigational drug.
Article continues below advertisement
Oncology research programs
The above diagram shows Gilead Sciences's ongoing research programs in the oncology segment. With a robust research pipeline, Gilead Sciences plans to compete effectively with other oncology players such as Merck (MRK), Eli Lilly (LLY), and Pfizer (PFE).
Gilead Sciences (GILD) is currently studying the investigational therapy GS-5745, in combination with chemotherapy as well as with an anti-PD-1 antibody, nivolumab, for patients who have gastric cancer.
Because gastric cancer is the fourth-most-prevalent cancer in the world, it is expected to offer significant growth opportunity to Gilead Sciences going forward. GS-5745 managed to demonstrate positive results in its Phase 1b trial, in which ~30 gastric cancer patients were dosed with the combination of 800 mg of the drug and modified FOLFOX once every two weeks.
It was observed that the majority of patients responded to the therapy. Further, while historical progression free survival for gastric cancer patients has been about five to six months, the combination regimen extended it to ~13.9 months. Based on these encouraging results, Gilead Sciences has initiated Phase 3 trials for GS-5745.
If Gilead Sciences can successfully expand into the oncology segment, it may have a positive impact on its stock, as well as on the Vanguard Growth ETF (VUG). Gilead Sciences makes up about 0.99% of VUG's total portfolio holdings.
In the final article in this series, we'll explore Gilead Sciences's inflammation strategy in greater detail.