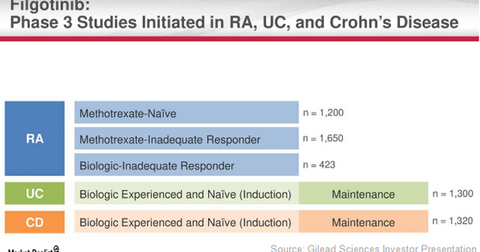 Gilead Sciences Initiated Phase 3 Trials to Evaluate Filgotinib
By Margaret Patrick

Updated
Filgotinib profile
To further diversify its revenue stream, Gilead Sciences is involved in evaluating investigational inflammation therapy, Filgotinib, in Phase 3 trials as a treatment option for rheumatoid arthritis (or RA), ulcerative colitis (or UC), and Crohn's disease. On December 17, 2015, Gilead Sciences (GILD) entered into a partnership agreement to develop and commercialize Galappagos's investigational therapy, Filgotinib.
If Gilead Sciences can successfully expand into the inflammation sector, it may have a positive impact on GILD stock as well as the Vanguard Health Care ETF (VHT). Gilead Sciences makes up ~3.0% of VHT's total portfolio holdings.
Article continues below advertisement
Filgotinib research programs
Gilead Sciences (GILD) is exploring Filgotinib in multiple Phase 3 trials across various patient segments. The company has planned to analyze the investigational therapy in six major studies, which are expected to enroll ~6,000 patients. With Filgotinib, Gilead Sciences expects to compete effectively with other inflammation players such as Celgene (CELG), AbbVie (ABBV), and Johnson & Johnson (JNJ).
Gilead Sciences has already studied safety data related to 900 patients for this selective Janus kinase (or JAK) inhibitor. So far, patients tested in clinical trials have shown high tolerance to Filgotinib. Further, no adverse change in parameters such as hemoglobin levels and lipids has been detected in Filgotinib's clinical trials.
With once-daily dosing ensuring ease of use and potentially higher patient compliance, Gilead Sciences expects Filgotinib to become a major growth driver for the company. Due to positive results from its Phase 2 trial, the company also believes that Filgotinib may be one of the first JAK inhibitors to be approved as a treatment option for Crohn's disease.