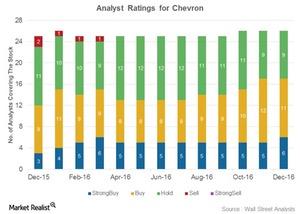 Why Most Analysts Are Calling Chevron a 'Buy'
By Maitali Ramkumar

Nov. 20 2020, Updated 4:59 p.m. ET
Most analysts rate Chevron a "buy"
On December 12, 2016, Chevron (CVX) was rated by a total of 26 analysts, 17 of whom assigned "buy" or "strong buy" ratings on the stock. These ratings have remained stable since November 2016, except for changes in the numbers of "strong buy" and "buy" ratings.
However, the ratings have improved from their October 2016 levels, during which Chevron had two more "hold" ratings. The change in ratings may have happened because Chevron lived up to analysts' expectations in 3Q16. In its 3Q16 results, CVX's earnings surpassed analysts' consensus estimates. For more information, read Chevron's 3Q16 Earnings: Upstream Earnings Finally Recover.
Chevron's peers have mixed "buy" ratings. ExxonMobil (XOM), Petrobras (PBR), and Total (TOT) have fewer "buy" ratings at 27%, 22%, and 43%, respectively. Statoil (STO) and Royal Dutch Shell (RDS.A) have more "buy" ratings at 60% and 100%, respectively.
If you're looking for exposure to integrated energy sector stocks, you can consider the iShares North American Natural Resources ETF (IGE). The ETF has ~22% exposure to the industry.
Article continues below advertisement
Why many analysts call Chevron a "buy"
Chevron has adopted a strategy of optimizing capital expenditure (capex), exiting non-core assets, and cutting costs.
Chevron's 2017 capex guidance, which we discussed earlier, is quite low compared to 2015 and 2016. The company's aim is to develop a leaner and more competitive earnings model that's capable of generating profits even at low points in the oil price cycle. Plus, Chevron's capital-intensive projects that required massive outlays, including Gorgon, started production this year.
Wheatstone is also expected to start up by mid-2017. Thus, the heavy investments that Chevron has incurred over the past few years should start yielding results. With the startup of its growth projects, Chevron is all set to take advantage of any rise in oil prices.
Chevron is also divesting its assets in order to exit non-competitive projects. CVX is targeting divestments to the tune of $5 billion–$10 billion in 2016–2017, of which the company has achieved $2.2 billion in the first nine months of 2016. Chevron is also stable in regards to leverage, providing it with financial strength and flexibility.
Going forward, with a strategy in place and new projects yielding results, Chevron is likely to witness growth in earnings in the scenario of rising oil prices, leading to improvements in its liquidity position. No wonder many analysts have given positive recommendations on the stock.