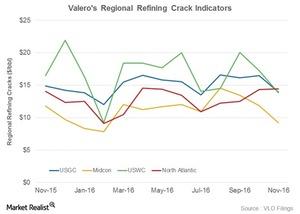 Analyzing Cracks to Predict Valero's Refining Margin in 4Q16
By Maitali Ramkumar

Dec. 12 2016, Updated 9:35 a.m. ET
Valero's refining margin indicators
Now, let's analyze the refining margin indicators published by Valero Energy (VLO). These indicators point toward VLO's likely margin trend in 4Q16.
Article continues below advertisement
Refining cracks fall in November 2016
Valero Energy publishes regional crack indicators where its refineries operate. The four areas where Valero operates its refineries are the US Gulf Coast (or USGC), the US Midcontinent, the US West Coast (or USWC), and the North Atlantic.
Valero's crack indicators fell in all areas except the North Atlantic in November 2016 compared to October 2016. The USGC crack spread fell from $16.5 per barrel in October 2016 to $13.9 per barrel in November 2016. The Midcontinent and USWC regions put up similar performances. The North Atlantic rose marginally, from $14.3 per barrel in October 2016 to $14.5 per barrel in November 2016. 
Falls in the refining cracks of three of the four areas point to a deteriorating margin environment for VLO in November 2016 compared to October 2016.
Three of the four areas have witnessed falls in average regional cracks so far in 4Q16 compared to 3Q16. VLO's Midcontinent crack indicator fell to $10.8 per barrel in 4Q16 from $13.1 per barrel in 3Q16. Similarly, the USWC and USGC indicators fell on a sequential basis. The North Atlantic cracks rose marginally by $2.7 per barrel over 3Q16 to $14.6 per barrel in 4Q16. 
The rise in the North Atlantic crack is likely to be offset by falls in the cracks in the other three zones, pointing to a likely fall in VLO's refining margins in 4Q16 compared to 3Q16.
However, on a yearly basis, cracks have shown a mixed trend. Of the four above-mentioned areas, two have witnessed rises (USGC and North Atlantic), while the other two (Midcontinent and USWC) have registered falls in their crack spreads. If you're looking for exposure to refining sector stocks, you can consider the iShares North American Natural Resources ETF (IGE). The ETF has ~7% exposure to refining and marketing sector stocks.
To understand the refining industry better, check out our primer, An Investor's Guide to the Refining Industry: All You Need to Know.