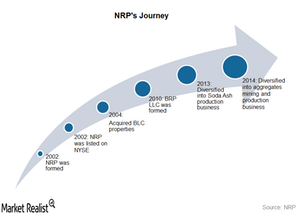 Natural Resource Partners: A Quick Trip Down Memory Lane
By Sheldon Krieger

Updated
A brief history of Natural Resource Partners
Natural Resource Partners (NRP) is an MLP formed in April 2002 by WPP Group and Arch Coal (ARCH). WPP Group includes Western Pocahontas Properties Limited Partnership, New Gauley Coal, and Great Northern Properties Limited Partnership. WPP Group companies are privately held and are involved in owning and managing diversified mineral properties across the US.
On October 17, 2002, NRP went public and raised about $48.4 million from its IPO. NRP began its journey as a lessor of coal reserves, but it has continued to diversify its business into oil and gas, aggregates mining, and soda ash production through a series of major acquisitions.
Article continues below advertisement
Series overview
In this series, we'll do a comprehensive analysis of Natural Resource Partners' business model. We'll explore how the company has expanded its business, and we'll evaluate key operational metrics and the company's financial position. We'll also look at what sets Natural Resource Partners apart from its competitors such as Alliance Resource Partners (ARLP), CNX Coal Resources (CNXC), Cloud Peak Energy (CLD), and Westmoreland Coal (WLB) in the coal (KOL) mining business. We'll wrap up this series with a company outlook by analyzing its current valuation and the factors that could drive the company's valuation multiples in the future.
Let's start with the MLP structure of NRP.