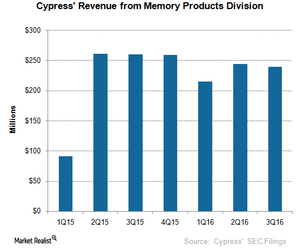 This Continues to be Cypress's Key Growth Driver
By Puja Tayal

Updated
Cypress's business segments
So far in this series, we've discussed how Cypress Semiconductor's (CY) revenues and profits continued to fall after the Spansion merger, impacted by high inventory and declining sales. However, the acquisition of Broadcom's (AVGO) wireless IoT (Internet of Things) improved the company's earnings in fiscal 3Q16.
Cypress has divided its business into four segments by product type: MPD (Memory Products Division), PSD (Programmable Systems Division), DCD (Data Communication Division), and ETD (Emerging Technology Division).
Article continues below advertisement
Cypress started its business as a memory supplier and continues to be the largest SRAM (static random access memory) and NOR Flash memory supplier in the world. MPD is still the company's largest segment accounting for 45% of its revenue. The division offers SRAM, NOR Flash, NAND Flash, F-RAM (ferroelectric memory), and nonvolatile SRAM memory devices.
Earnings from memory business
The MPD segment grew almost threefold after the Spansion merger in fiscal 2Q15, but then it faced revenue declines as the memory market suffered from declining prices and oversupply. But market conditions improved in fiscal 2Q16 as demand rose and prices stabilized.
In fiscal 3Q16, MPD revenue fell 2% sequentially to $239.6 million due to declines in NOR Flash sales and the timing of licensing revenue. Notably, MPD is the most profitable division of Cypress, with an operating margin of 29%.
In an effort to work on its strengths, Cypress aims to improve its overall gross margin by 2.1 percentage points by improving its flash memory margins. The company would thus reduce cost and improve its pricing and factory utilization to increase its margins.
Memory market
Things are likely to improve in the memory market as many third-party researchers and memory makers forecast a supply shortage in calendar 2017. Micron Technology (MU) expects NAND supply to grow in the high-30% to low-40% range in 2017, but it expects demand to grow in the low- to mid-40% range in 2017. This gap in demand and supply is expected to come about because the conversion to 3D NAND may disrupt a facility's output. This may increase the price of memory chips, thereby improving margins for suppliers.
To be sure, Cypress is well-positioned to tap this opportunity. It has completed its lean inventory initiative and will now produce chips according to the demand environment. This should improve the company's factory utilization and its profits.
Cypress's second-biggest segment is Programmable Solutions Division. We'll look at this division's performance in the next part.