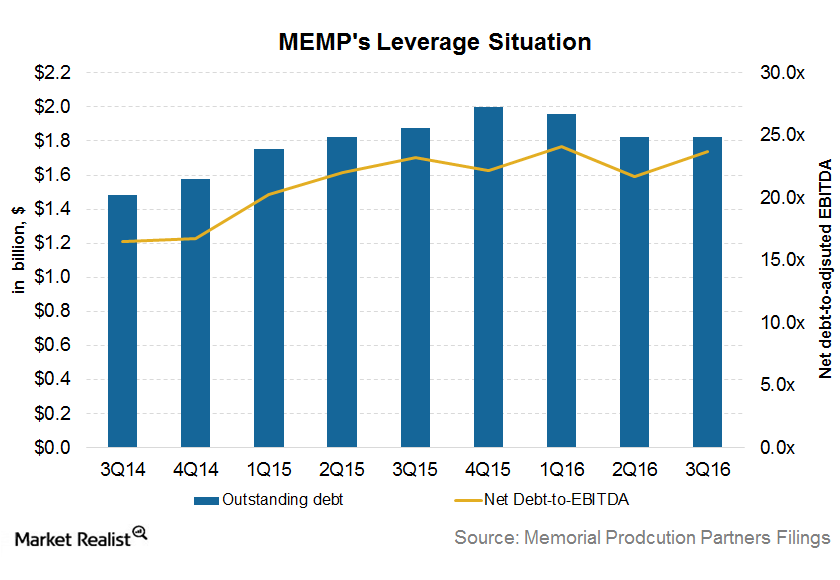 What Led to Memorial Production Partners' Bankruptcy?
Memorial Production Partners' commodity price exposure
Memorial Production Partners (MEMP), like other upstream producers, has its earnings related to commodity prices. The company reported a net loss of $32.9 million, or $0.39 per share, in 3Q16 and a net loss $147.6 million in the previous quarter. That affected the company's ability to service its debt and interest payments.
Article continues below advertisement
Memorial Production's high leverage
The fall in partnership earnings combined with its significant outstanding debt resulted in Memorial Production Partners' high leverage. Until recently, MEMP used internally generated cash flows for distribution payments and borrowed from the capital market to fund its organic projects and acquisitions. That resulted in a significant rise in its leverage over recent quarters and a fall in its liquidity position.
MEMP's earnings improved in the recent quarter, driven by a slight recovery in commodity prices. But prior periods' shortfalls were high and couldn't be covered without a restructuring under Chapter 11 of the United States Bankruptcy Code.
Memorial Production's peers
Memorial Production Partners' peers, including Vanguard Natural Resources (VNR), Legacy Reserves (LGCY), and EV Energy Partners (EVEP), are facing similar or slightly better situations in terms of liquidity and leverage. We'll have to wait and see how these upstream MLPs manage to stay afloat in the current commodity price environment.
For a detailed company analysis on Vanguard Natural Resources, please read Can Vanguard Natural Resources Bounce Back?