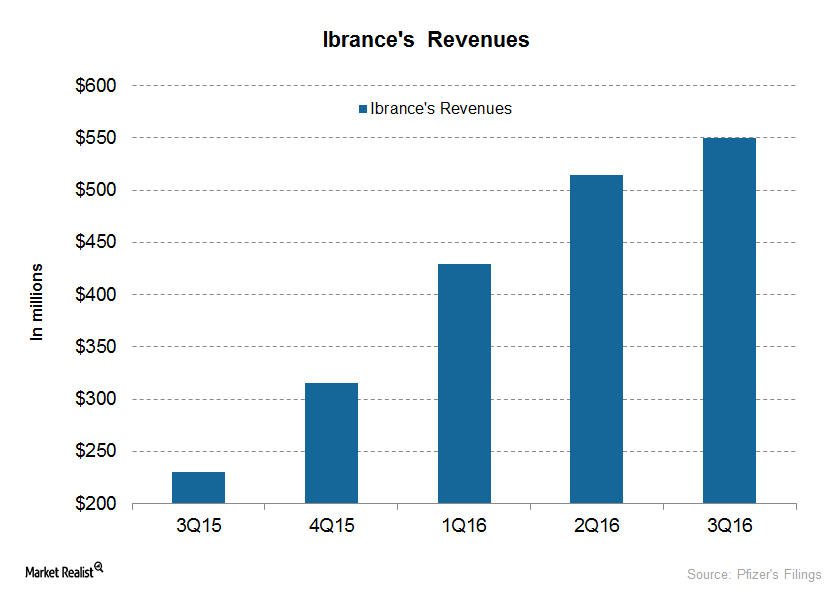 Ibrance Is the Only Registered CDK 4/6 Inhibitor for Breast Cancer
Ibrance as a standard of care for breast cancer
Since its launch in February 2015, Pfizer's (PFE) Ibrance (palbociclib) has quickly captured the advanced breast cancer market and has reached more than 40,000 patients.
Ibrance reached 20,000 patients in the first ten months of its US approval. It now seems to be the standard of care for breast cancer patients in the United States. For more information on Ibrance's competitors in the breast cancer segment, read PFE to Enjoy Being Sole Provider of Key Breast Cancer Treatment.
Article continues below advertisement
Ibrance is being prescribed by over 8,500 physicians. The product has managed to record strong growth based on its efficacy and outstanding safety coupled with its tolerability profile. Based on a quarter-over-quarter performance comparison, Ibrance prescriptions rose 9% during 3Q16. Ibrance managed to garner $550 million during 3Q16. In the next article, we'll discuss the growth drivers for Ibrance.
Ibrance: A CDK 4/6 inhibitor drug
Ibrance is an oral, cyclin-dependent kinase 4/6 (or CDK 4/6) inhibitor therapy indicated for the treatment of advanced breast cancer. It's the only approved product in the CDK 4/6 class with 50% penetration in first-line therapy and 50% penetration in second-line therapy.
With its latest European Union approval, Ibrance is now approved in the United States and over 50 other countries. With three major drugs in its oncology portfolio—Ibrance, Sutent, and Xalkori—Pfizer competes with Roche (RHHBY), Novartis (NVS), and Eli Lilly (LLY) in the oncology space.
If Ibrance continues fueling Pfizer's top line, positive investor sentiments could result. By investing in the SPDR S&P Pharmaceuticals ETF (XPH), you can enjoy exposure to Pfizer. Pfizer accounts for 4.4% of XPH's total assets.