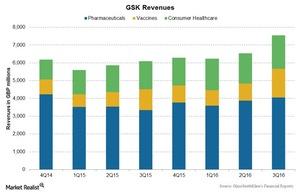 Exploring GlaxoSmithKline's Business Segments
GlaxoSmithKline's business segments
GlaxoSmithKline's (GSK) business is divided into three business segments:
Pharmaceuticals
Vaccines
Consumer Health
The company reported operational growth of 8% in its revenue to 7.5 billion British pounds in 3Q16. This growth was driven by a rise in revenues across all three of its segments.
Article continues below advertisement
Article continues below advertisement
Segment-by-segment performance
The Pharmaceuticals segment's revenue has seen a shift in its product performance. The segment's revenue has fallen due to lower sales of its key products Seretide and Advair, partially offset by rising revenues from its new products and its HIV products Triumeq and Tivicay.
GSK's divestment of its oncology business to Novartis (NVS) will have a negative impact on both the revenue and profitability of its Pharmaceuticals segment in the coming years. During 3Q16, the Pharmaceuticals segment's revenue rose ~6% to ~4.1 billion pounds. We'll discuss more details about these products and therapeutic areas later in the series.
Inorganic growth due to the acquisition of Novartis's meningitis and other vaccines portfolios in March 2015 has increased the exposure and revenue of GSK's Vaccines segment. Revenue in the Vaccines segment has risen ~20% to 1.6 billion pounds in 3Q16. Although meningitis vaccines are adding to the company's revenue, these vaccines have lower profit margins.
GSK's Consumer Health revenue rose over 5% to 1.9 billion pounds in 3Q16. The rise was mainly due to the segment's wellness and skin health franchises.
In order to divest risk, investors can consider ETFs such as the iShares S&P Global Healthcare ETF (IXJ). IXJ holds 2.5% of its total assets in GlaxoSmithKline, ~8.1% of its assets in Johnson & Johnson (JNJ), 5.3% of its assets in Pfizer (PFE), and 3.9% of its assets in Merck & Co. (MRK).