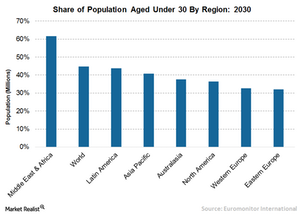 Why Emerging Markets Have Better Demographics
Emerging markets are in a growth phase
Achieving higher returns amid rising market volatility, record-low interest rates, and global uncertainties is a huge challenge for investors. In this doom and gloom scenario, the world of emerging markets is growing faster than developed nations despite many concerns. In this article, we'll discuss how the growth in emerging markets pans out and how investors can benefit from it.
Emerging markets (EMQQ) represent many diverse countries in growth phases. This group includes small countries like Jamaica and Slovenia as well as big economies like Brazil, Russia, China (FXI), and India. They're all gaining a foothold in the global economy. Their bond and equity markets may be smaller and less advanced, but their economic growth is much higher than developed markets. Moreover, they offer tremendous growth potential never seen before.
Article continues below advertisement
Enlarging consumer base
The population in emerging markets (EEM) (VWO) comprised 85% of the world's population in 2014. It's expected to grow manifold in the coming years, creating a large consumer base in the process. According to the Organization for Economic Cooperation and Development, the global population will increase by an additional 1.6 billion by 2034. However, around 95% of them will be in developing countries, signifying the immense growth potential in emerging markets.
Add to this potential the shift in consumer base from the lower rung of the income strata to the middle-class category due to rising income. OECD data further showed that the middle class in the Asia-Pacific region is expected to jump from 28% of the global population in 2009 to 66% in 2030.
Better demographics
Emerging markets not only have large populations but have better demographics as well. The world population's under 30 years of age comprised 49% of the total population. And 89.8% of those lives are in emerging markets (SCHE).
In the next part of this series, we'll discuss how economic growth in emerging markets outpaced developed markets.