Does Consolidation in the FPGA Market Make Xilinx an Acquisition Target?
In the past, analysts have named Broadcom (AVGO), Qualcomm (QCOM), and Texas Instruments (TXN) as potential bidders for Xilinx.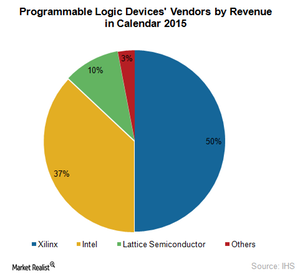 FPGA a consolidated market
Given its good profit margins, strong cash reserves, and efforts to boost future growth, Xilinx (XLNX) has understandably fallen under acquisition speculation—particularly since its rival, Lattice Semiconductor (LSCC), agreed to be acquired by Canyon Bridge Capital Partners for a cash consideration of $1.3 billion.
The FPGA (field programmable gate array) space is a highly consolidated market, with Xilinx, Altera, and Lattice commanding 50%, 37%, and 10% market shares, respectively, in calendar 2015. In 2015, Intel (INTC) acquired Aletra for $16.7 billion, and now Lattice has been acquired for a 30% premium.
Article continues below advertisement
Article continues below advertisement
However, Lattice shares fell after a Reuters report stated that the acquisition was being partially funded by the Chinese (FXI) government, which could bring the deal under regulatory scrutiny. This latest news reignited speculations surrounding a potential Xilinx's acquisition because it's now the only mid-cap company left to be acquired.
Potential bidders for Xilinx
In the past, analysts have named Broadcom (AVGO), Qualcomm (QCOM), and Texas Instruments (TXN) as potential bidders for Xilinx. However, a lot has changed in just a few months. Qualcomm, for example, is acquiring NXP Semiconductor (NXPI), which, in effect, takes it out of the list of potential bidders for Xilinx.
The next bidder would be Broadcom, which recently acquired Brocade. That leaves Texas Instruments as a potential bidder—the only big company that didn't participate in the 2015–2016 semiconductor consolidation wave. Notably, TXN has been looking to reduce its dependence on Apple (AAPL), and acquiring Xilinx would give it some much-needed diversification.
Another possible bidder would be Intel, which is looking to compete with Nvidia (NVDA) in the machine learning space. This might bode better for Intel than to compete with Xilinx.
What's the real possibility of Xilinx being acquired?
To be sure, Xilinx's management may not be interested in an acquisition. Still, if a good premium is offered, there's always a possibility that its management would agree.
This happened with Brocade and ARM Holdings (ARMH). Both companies were doing well and had no plans to be acquired, but a good offer with high premium changed the game. Still, the highly leveraged balance sheet of many semiconductor companies—not to mention the increasing interest rates following the Fed's rate hike—may make it difficult for Xilinx to fetch a high premium, unless a Chinese investor gets involved.
But with or without an acquisition offer, Xilinx's shareholders seem optimistic, given its recent stock performance.
We'll discuss Xilinx's recent stock performance in more detail in the next part.