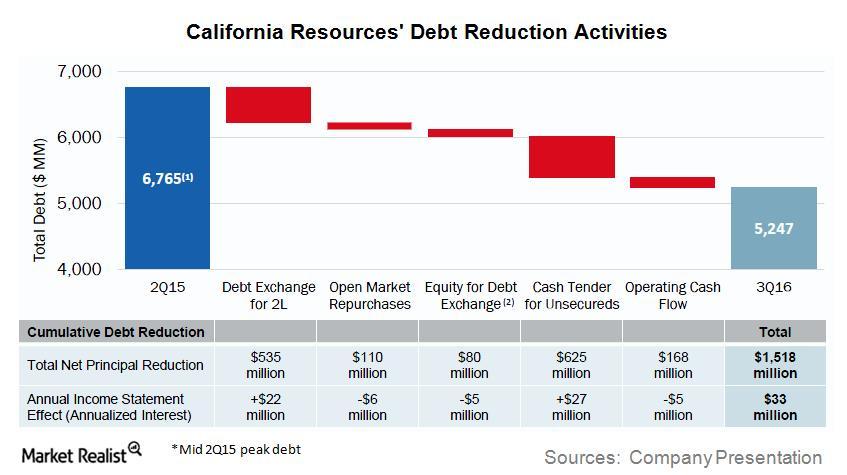 California Resources Has Taken These Steps to Reduce Its Debt
California Resources' debt trends
On September 30, 2016, California Resources' (CRC) total debt stood at ~$5.3 billion. California Resources has been intently focusing on reducing its debt load. The company's total debt has fallen from its peak of ~$6.8 billion in mid-2Q15 to ~$5.3 billion in September 2016. This fall represents a debt reduction of ~22% in the last five quarters.
Article continues below advertisement
Article continues below advertisement
Debt reduction efforts
As shown in the above chart, California Resources reduced its total debt through a combination of debt exchanges, open market repurchases, equity-for-debt exchanges in 3Q16, cash tender offers in August 2016, and the utilization of operating cash flows.
CRC's debt reduction efforts are continuing in 4Q16 as well. In October 2016, CRC further reduced its debt by ~$21 million by way of an equity-for-debt exchange in which CRC exchanged 1.3 million shares of its common stock.
California Resources is also open to selling its assets in order to reduce its total debt. In 2016, many S&P 500 (SPY) companies, including Southwestern Energy (SWN), Devon Energy (DVN), and Marathon Oil (MRO), have increased their cash positions by way of divestitures.