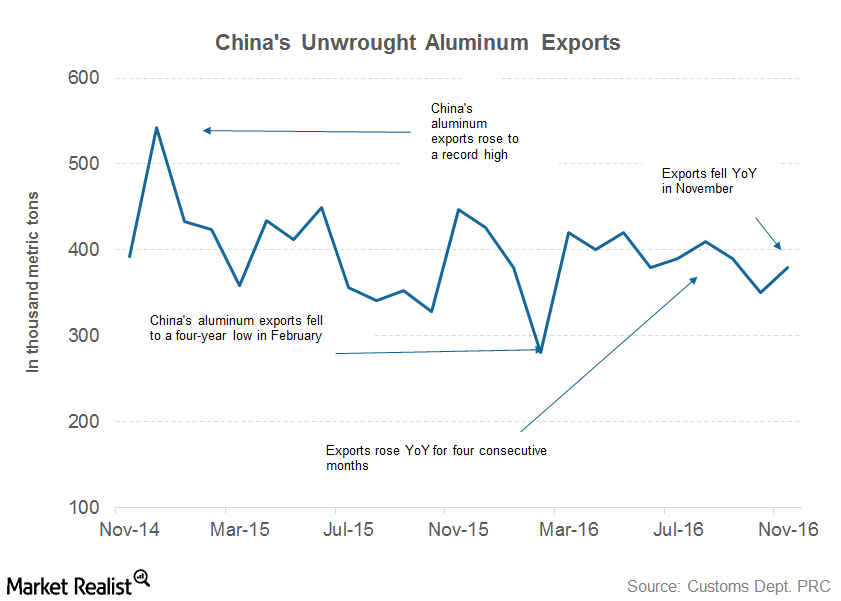 Should Alcoa Bears Like Their Chances in 2017?
Alcoa bears
Article continues below advertisement
China's restarts
One of the factors supporting higher aluminum prices has been less-than-expected smelter restarts in China. According to Rusal, there has been a net increase of only 0.90 million metric tons in China's smelting capacity between July 2015 and August 2016. The company sees limited additional restarts since aluminum's cost of production rose due to higher alumina and coal prices. Notably, higher coal prices also raised the production costs for Chinese alumina refiners that rely on imports.
Coal prices
In a bid to control pollution and curtail its excess industrial capacity, China reduced the hours for workers in its coal sector. However, the country subsequently relaxed the mining day norm to control skyrocketing prices. Higher coal output in China could help bring down the country's reliance on imports. It would be negative for seaborne prices. Any fall in seaborne coal prices could impact alumina and aluminum prices.
Chinese supply
With massive existing overcapacity and the incorporation of fresh smelting capacity (ACH), Chinese supply could be a serious headwind for Alcoa and aluminum prices. Higher Chinese aluminum production could spoil the party that companies such as Alcoa and Century Aluminum (CENX) are currently enjoying. Overproduction in China fuels the country's aluminum exports. It worked to the detriment of aluminum prices over the past few years.
Higher raw material prices and positive markets sentiments supported aluminum prices. However, Chinese overcapacity is hanging over aluminum markets. You can read Aluminum Supply: Chronic Overcapacity is Here to Stay to learn more.
You can also visit Market Realist's Aluminum page for ongoing updates on the industry.