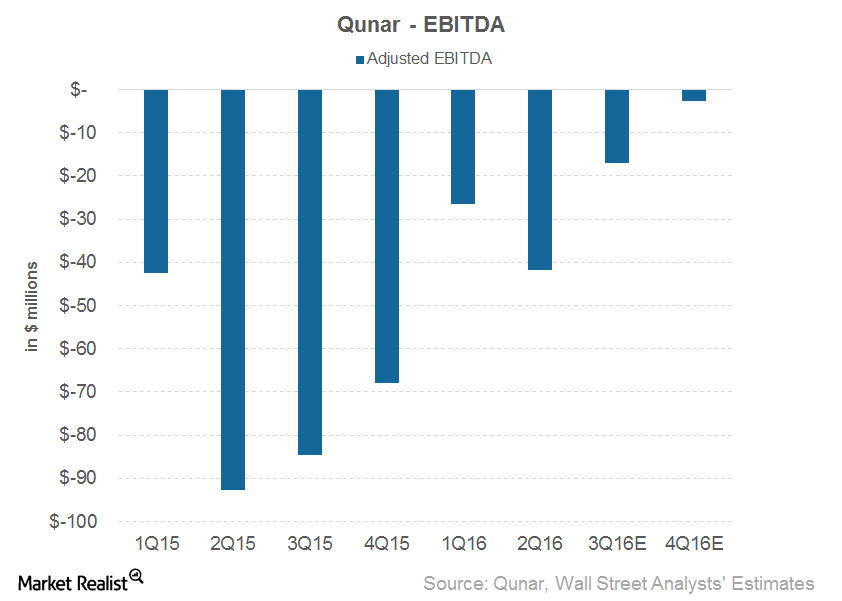 Why Isn't Qunar Profitable Yet?
By Ally Schmidt

Nov. 24 2016, Updated 11:04 a.m. ET
Analyst estimates
Analysts are estimating that Qunar Cayman Islands (QUNR) will incur an EBITDA loss of $17 million in 3Q16 and $3 million in 4Q16. For the full year 2016, EBITDA loss is estimated to be at $264 million as compared to an EBITDA loss of $279 million in 2015.
Qunar will likely continue to see EBITDA losses for the first quarter of 2017 and then see positive EBITDA in the second, third, and fourth quarter of 2017. EBITDA loss for the first quarter is estimated to be at $12 million. For the next three quarters, EBITDA is expected to be at $4 million, $26 million, and $30 million, respectively.
Rival Priceline's (PCLN) and Expedia's (EXPE) margins are expected to rise in 2016, while TripAdvisor's (TRIP) margins are expected to fall in 2016.
Article continues below advertisement
Heavy investments
As seen in the previous articles, Qunar has seen tremendous growth in revenues in the past year. However, this growth has come at the cost of margins. Qunar has been making sustained investments in product development and sourcing to drive growth, which has resulted in both operating and EBITDA losses for the company.
Price wars
China has seen tremendous growth in its online travel industry, and it will likely continue to grow this year too. This growth has led to intense price wars as everyone tries to get a bigger share of the pie, thus leading to declining margins.
Outlook
QUNR is expected to continue making investments to achieve revenue growth, which will adversely impact margins. However, industry consolidation will help keep pricing wars at bay, offsetting some of the adverse impact.
Also, Qunar management is optimistic about turning the company around. Two major factors leading to this confidence are cost discipline and future economies of scale.
Investors can gain exposure to the Chinese OTA (online travel agency) market by investing in the PowerShares Golden Dragon Halter USX China ETF (PGJ).