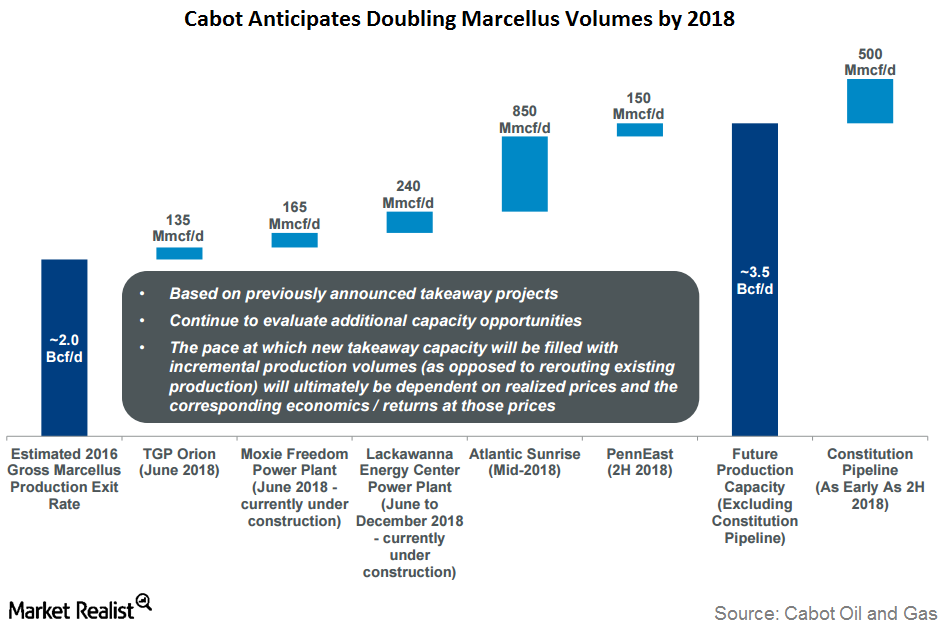 Why Cabot Awaits the Atlantic and Constitution Pipeline Projects
FERC delays Atlantic Sunrise project
In a press release on October 13, 2016, Cabot Oil & Gas (COG) announced that the Federal Energy Regulatory Commission (or FERC) was "evaluating certain alternatives to the Central Penn Line North and South routes, which are portions of the Atlantic Sunrise Project."
Following the announcement, COG's stock fell ~5% on the day. Since then, its stock price momentum has slowed, as we saw earlier in this series. However, COG's stock has recently been rising, mirroring natural gas prices.
Article continues below advertisement
Constitution pipeline project
Another major pipeline project long-awaited by COG is Williams Companies' (WMB) Constitution pipeline project, which, though it's been cleared by the FERC, has been blocked by the New York Department of Environmental Conservation. Cabot Oil & Gas has equity investments in both the Constitution and the Atlantic Sunrise pipelines.
If there are further delays in the review process for the Atlantic Sunrise or the Constitution pipeline projects, COG could see its price fall, as the market could react negatively. The reward for Cabot Oil & Gas if the pipeline projects come online, however, could be huge.
Why Cabot needs the Atlantic and Constitution pipeline projects
Given the takeaway capacity that these pipelines could provide for it, Cabot Oil & Gas could double its Marcellus volumes by early 2018. New takeaway capacity could improve COG's realized prices by more than $0.50 per Mcf (million cubic feet) between 4Q16 and 4Q18, assuming no change in basis differentials.
COG's November 2016 presentation noted, "With the addition of new large-scale projects in NE PA like Atlantic Sunrise, we anticipate improved in-basin pricing resulting in an even further uplift in realized prices."
Following the FERC's announcement, WMB pushed the in-service date for the Atlantic Sunrise Project to mid-2018 from late 2017. The in-service date for the Constitution pipeline was pushed to 2H17 from 4Q16.
Both pipelines are expected to relieve takeaway capacity constraints of several Marcellus producers, including Cabot Oil & Gas, Southwestern Energy (SWN), and Range Resources (RRC). These companies make up a combined 1.3% of the holdings of the iShares North American Natural Resources ETF (IGE).