What the Direction of October's Truck Tonnage Index Indicates
In this article, we'll look at the direction of the Truck Tonnage Index (or TTI) in October 2016.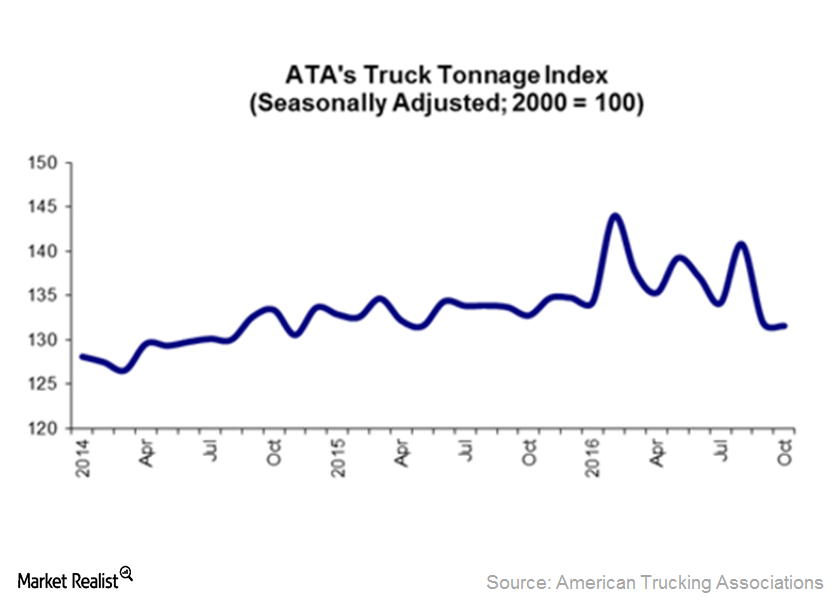 Truck Tonnage Index
Previously, we discussed the debt levels of major truckload carriers. Now, we'll look at the direction of the Truck Tonnage Index (or TTI) in October 2016.
The TTI takes into account for-hire trucks. The American Trucking Association (or ATA) has calculated the tonnage index based on surveys from members since the 1970s.
Article continues below advertisement
Article continues below advertisement
How has the index moved?
The seasonally adjusted Truck Tonnage Index fell 0.3% in October 2016. In that month, the index was 131.6, down from 131.9 in September 2016. Even in July, this index fell. The TTI was all time high at 144 in February this year. The non-seasonally adjusted index in October 2016 was 138.2. This level represents the change in tonnage hauled by the fleets before any seasonal adjustment took place.
"While seasonally adjusted tonnage fell, meaning the not seasonally adjusted gain wasn't as large as expected, the bottom of the current tonnage cycle should be near," said the ATA's chief economist, Bob Costello. "There are some recent trends that suggest truck freight should improve, albeit gradually, soon."
Costello continued, "Retail sales, housing starts, and even factory output all improved in October, which is a good sign. Most importantly, there has been considerable progress made in clearing out excess stocks throughout the supply chain. While that correction is still ongoing, there has been enough improvement that the negative drag on tonnage shouldn't be as large going forward."
ETF investment
Investors bullish on the transportation and logistics sector can consider investing in the SPDR S&P Transportation ETF (XTN). Trucking companies such as J.B. Hunt Transport Services (JBHT) and Swift Transportation (SWFT) and major US airlines such as Delta Air (DAL) and Alaska Air Group (ALK) are included in the portfolio holdings of XTN.
For a sequential comparison of the financial results of these trucking companies, you can read What to Know about Playing the US Truckload Carrier Sector.