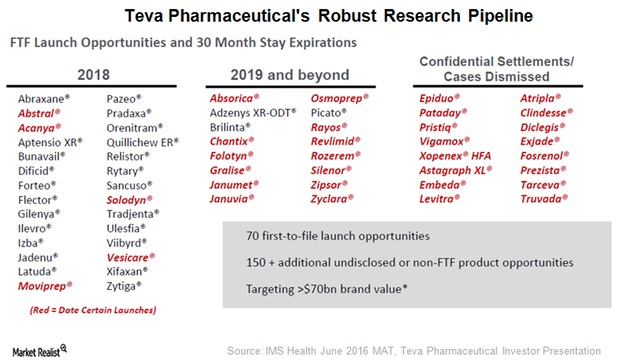 Teva's Research Pipeline to Culminate in Many New Drug Launches?
Near-term drug launches
Teva Pharmaceutical's (TEVA) generic research pipeline is expected to result in more than 30 first-to-file (or FTF) launches in 2016 and 2017. The company also expects more than 50 non-FTF new drug launches by 2017.
These generic drug launches are targeting competition with a branded drug market worth more than $30 billion. Teva Pharmaceutical already has fixed launch dates for its generic drugs Byetta, Epzicom, Reyataz, Viagra, and Viread.
However, the company claims that it may fail to realize all these opportunities, as many of its applications are involved in patent litigations. However, the negative impact of these litigations can be controlled, as the company has a broad research pipeline across multiple therapeutic areas.
If Teva Pharmaceutical manages to realize the majority of its planned new drug launches by 2017, it could have a positive impact on the company's share price and the price of the First Trust Value Line Dividend Index ETF (FVD). Teva makes up ~0.42% of the ETF's total portfolio holdings.
Article continues below advertisement
Article continues below advertisement
Future drug launches
In 2018 and 2019, Teva Pharmaceutical is targeting 70 FTF opportunities and more than 150 non-FTF opportunities, which together target a market of more than $70 billion held by branded drugs.
Teva Pharmaceutical is focused on integrating its product portfolio and research pipeline with Allergan's generic business, which it recently acquired. This integration is expected to enable the company to prioritize opportunities based on marketing position, manufacturing network, and cost efficiency.
The company is also exploring yet-unexplored therapeutic areas as it responds to changes in market conditions and changes in its capabilities. Teva Pharmaceutical's robust research pipeline should enable it to pose strong competition to other generic players such as Pfizer (PFE), Mylan (MYL), and Novartis (NVS).
In the next article, we'll explore the patent litigations being faced by Teva Pharmaceutical in 2016.