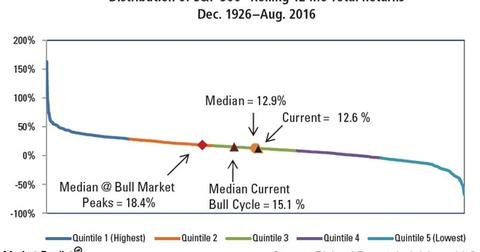 Bernstein on the Opportunity Cost of Underweighing Equities
By David Ashworth

Nov. 16 2016, Published 3:36 p.m. ET
Not a low return environment
In his November 2016 Insights newsletter, Richard Bernstein talked about the growing opportunity cost of investing in equities (SPHD) (VIG).
Bernstein has stated several times in the past that investors are missing out on the second-largest bull market in US equities in the postwar era. He's also noted that investors, including individuals, pensions, endowments, foundations, and hedge funds, have been afraid of investing in stocks.
In his September 2016 newsletter, Bernstein debunked the widely held belief that equities are in a low return environment. One of the graphs he used for this purpose has been reproduced above.
Bernstein also asked how long returns will have to exceed expectations before investors agree that we're not in a low return environment.
Article continues below advertisement
What's led to low returns?
In his November newsletter, Bernstein noted that until October 31, 2016, the annualized five-year return of the S&P 500 (SPY) (IVV) was over 13%.
According to Bernstein, fears regarding equities (VUG) (SCHX) have led to poor asset allocation, leading to sub-par returns. However, instead of being surprised by this low return performance, investors justify their low returns by stating that it's difficult to achieve higher returns. Thus, they're both feeding the low return environment sentiment and feeding off of it.
Bernstein says that in reality, equities are already providing higher returns than investors' misallocated assets and that "the opportunity cost of under-weighting equities is growing."
In the next article, we'll join Bernstein in taking a closer look at what's driving investors' conservative asset allocations.