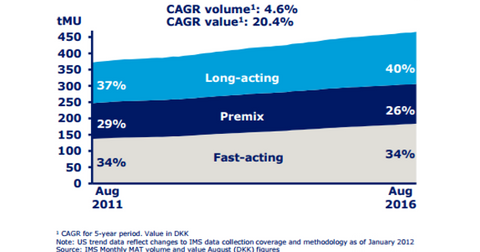 Reading Novo's Insulin Portfolio to Find Clues about Its Growth
By Jillian Dabney

Updated
Insulin portfolio
Novo Nordisk's (NVO) diabetes and obesity care portfolio consists of modern insulin, Victoza, human insulin, new generation insulin, and other diabetes and obesity care products. Novo holds a significant position in the insulin market with a volume market share of 37% in the US, 46% in Europe, 55% in International Operations and China, and 47% in the Pacific.
The insulin market consists of three segments. Long-acting insulin accounts for 40% of the market, and premix accounts for 26% of the volume market share. Fast-acting insulin's global share is 34% in terms of volumes.
Article continues below advertisement
Modern insulin
Novo's modern insulin portfolio includes NovoRapid as fast-acting insulin, NovoMix as premix insulin, and Levemir as long-acting insulin. Please read Will Novo's Modern Insulin Portfolio Fall Soon? in order to understand the challenges the company has experienced in its modern insulin portfolio.
Novo dominated the modern insulin market with a 45% share in volume terms as of August 2016. Sanofi (SNY) had a 35% share in modern insulin, while Eli Lilly's (LLY) market share in modern insulin stood at 19% as of August 2016. These three companies are followed by Merck's (MRK) presence in the diabetes space. If you want exposure to Novo, you can invest in the PowerShares International Dividend Achievers Portfolio (PID). The fund holds 0.85% of its assets in the stock.
Next generation insulin
Novo's new generation insulin portfolio includes Tresiba, Xultophy, and Ryzodeg. With the strong uptake, Tresiba holds 12% of the market share in the new-to-brand prescriptions in the US. Tresiba's share in the total number of prescriptions in the basal insulin segment remained at 49% in the country. To understand how Tresiba is a driver for Novo's growth, please refer to How Tresiba and Xultophy Will Drive Novo's Performance. We'll discuss Novo's Victoza, a key driver, in the next article.