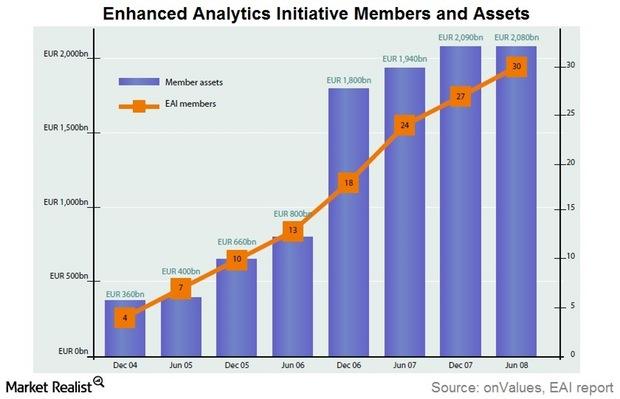 What You Need to Know about the Enhanced Analytics Initiative
By David Ashworth

Nov. 1 2016, Updated 2:43 p.m. ET
What was the Enhanced Analytics Initiative?
The Enhanced Analytics Initiative was a four-year project established in mid-2004. It was aimed at integrating extra-financial issues (or EFIs) with traditional financial analysis with a long-term view.
According to a report published in December 2008 by onValues on behalf of the Enhanced Analytics Initiative, the initiative included asset owners and managers who, by mid-2008, totaled 30 and represented over 2 trillion euros in assets. In comparison, the initiative had started with four European institutional investors with combined assets of 330 billion euros.
The onValues report outlines the different types of research providers that took up the Enhanced Analytics Initiative challenge:
Article continues below advertisement
sell-side research departments of full-service banking operations, such as those of Citigroup (C), Goldman Sachs (GS), and JPMorgan Chase (JPM)
brokerages with strong research capacities, such as Bernstein and CM-CIC Securities
non-broker research providers, including EFI specialists such as Independent Minds / IRIS and Innovest Strategic Value Advisors
Characteristics of EGS issues
According to the Enhanced Analytics Initiative, ESG (environmental, social, and governance) issues have one or more of these characteristics:
They're qualitative and require innovation to quantify in monetary terms (for instance, corporate governance and intellectual capital).
They reflect externalities not well-captured by market mechanisms (for instance, environmental pollution caused by a company may not be reflected in its share price by traditional financial methods).
They're related to wider elements of a company's supply chain (for instance, issues at a supplier).
They concern the public and are in focus (for instance, genetically modified organisms).
They have medium- to long-term horizons (for instance, the impact of climate change).
The policy and regulatory framework is tightening around an issue (for instance, greenhouse gas emissions).
ETFs such as the iShares MSCI KLD 400 Social ETF (DSI) and the Global X S&P 500 Catholic Values ETF (CATH) can help you invest according to the ESG theme.
In the next article, we'll look at the research output of the Enhanced Analytics Initiative.