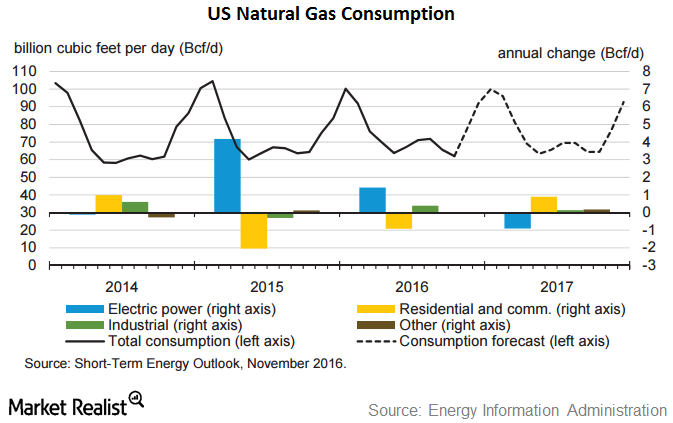 How Natural Gas Prices Have Supported Chesapeake Energy
Natural gas prices
2016 has been good for natural gas prices (UGAZ). Prices have risen ~34% year-over-year. A combination of falling production and increased demand has driven this surge.
In its November 2016 Short-Term Energy Outlook (or STEO), the EIA (U.S. Energy Information Administration) forecasts that total natural gas consumption will average 75.6 Bcf (billion cubic feet) per day in 2016 and 75.9 Bcf per day in 2017 compared to an estimated 74.8 Bcf per day in 2015.
Much of this increase is forecast to come in from the industrial and electric power sectors. Demand from the industrial sector is forecast to grow ~2% in 2016 compared to 2015, while demand from the power sector is expected to grow 5.3% in 2016.
Article continues below advertisement
Natural gas is one of the largest sources of power for electricity generation in the United States in close competition with coal. Last year, both the fuels supplied ~33% of total US electricity generation. This year, however, the EIA expects natural gas's share to rise to 34%, while coal's share is expected to decline to 30% this year.
Bottom line
So, an improving demand-supply balance, as discussed above, combined with higher pipeline exports to Mexico have created a bullish environment for natural gas prices. Improving natural gas prices are one of the major reasons behind CHK's recent upturn. Chesapeake's natural gas production in 3Q16 was 76% of total production.
Other natural gas companies that have also cashed in on the natural gas price momentum are Antero Resources (AR) and Rice Energy (RICE), both of which saw their ratings upgraded recently. All these companies make up ~0.72% of the iShares North American Natural Resources ETF (IGE).