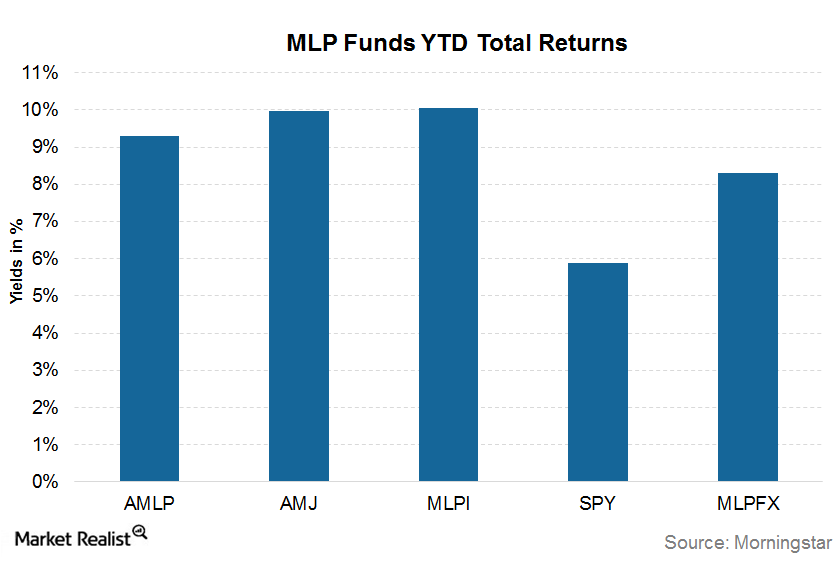 MLP Focused ETNs Are Top Performers in 2016: Key Insight for Investors
MLPs outperformed the SPY
In the previous part of this series, we discussed how MLP (master limited partnership) fund flows recovered slightly in 2016. This recovery could be attributed to MLP funds' outperformance relative to the SPDR S&P 500 ETF (SPY).
Below is a breakdown of the YTD outperformance of a few MLP funds relative to SPY in terms of total returns.
Alerian MLP ETF (AMLP): +3.4%
JPMorgan Alerian MLP ETN (AMJ): +4.1%
UBS ETRACS Alerian MLP Infras ETN (MLPI): +4.2%
Oppenheimer SteelPath MLP Select 40 A (MLPFX): +2.4%
The Oppenheimer SteelPath MLP Select 40 A is a MLP-focused open-end fund. Such funds are generally made up of midstream MLPs.
Article continues below advertisement
ETNs versus other MLP funds
Among MLP funds, ETNs are top performers in terms of total returns, while the closed-end funds are the bottom performers. The outperformance of open-end funds relative to ETFs has been most likely due to active management (see Part 2 of this series).
An MLP ETF and an MLP ETN tracking the same index still differ in performance due to varying tax consequences. MLP ETFs are generally structured as C corporations, which means that they have to pay corporate taxes on distributions before distributions are passed on to investors. This results in performance differences between MLP ETFs and their underlying MLPs.
By comparison, ETNs don't pay any taxes on distributions, which results in better performance tracking with MLP indexes. However, in this case, distributions are treated as taxable income. Investors can avoid these tax consequences or tracking errors by investing directly in MLPs, but then investors have to undergo a complicated K-1 application form process.
For more detail on MLP tax structure, check out Market Realist's "Tax Consideration: How Are MLP Investors Taxed?" Continue to the next part for a closer look at yields.