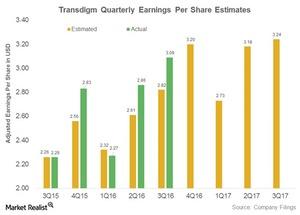 Key Market Expectations for TransDigm's Fiscal 4Q16
By Shannon Black

Nov. 20 2020, Updated 2:01 p.m. ET
TransDigm to declare fiscal 4Q16 earnings
TransDigm Group (TDG) is an aviation (XAR) component manufacturer with an installed base spanning over 95,000 military, transport, and general aviation (PPA) aircraft. The company derives more than 90% of its sales from internally developed proprietary technologies. The company is scheduled to declare its fiscal 4Q16 earnings on November 10, 2016.
Wall Street analysts' consensus expectation for TransDigm's adjusted earnings per share (or EPS) is $3.12, a rise of 13%, in fiscal 4Q16. Based on the same consensus, TransDigm's sales are expected to rise 8.8% to $880.7 million in the quarter.
Article continues below advertisement
TransDigm Group's fiscal 2016 guidance
In its fiscal 3Q16 earnings call, TransDigm updated its fiscal 2016 guidance to account for its DDC acquisition, its higher interest expenses due to its recent financing decisions, and its improved year-to-date core performance, especially in the commercial air transport (XAR) business.
The company raised its fiscal 2016 revenue guidance by $19 million to the new range of $3.17 billion–$3.19 billion. This revision constituted a rise of 17.1%–17.7% compared to fiscal 2015's revenue of $2.7 billion. TransDigm updated its EBITDA (earnings before interest, tax, depreciation, and amortization) guidance from the previous range of $1.45 billion–$1.47 billion to the new range of $1.48 billion–$1.50 billion for a rise of 20.2%–21.3% over its fiscal 2015 EBITDA.
The company's net income is expected to rise 28.2%–30.4% over fiscal 2015 to $573 million–$583 million. Compared to TransDigm's previous adjusted EPS guidance of $11.04–$11.28, its adjusted EPS is expected to be in the $11.21–$11.39 range in the year.
Investors can also look into our earnings series on other players such as Lockheed Martin (LMT), Honeywell International (HON), and Northrop Grumman (NOC).