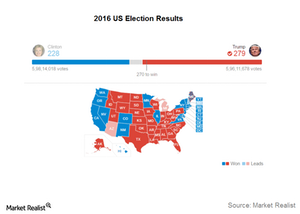 Initial Reactions from the Travel Industry after Trump's Win
Trump wins
The US presidential election is over, and the final results are known to everyone by now: Republican candidate Donald Trump will be the 45th president of the United States.
Just a few days ago, we wrote about how Trump had received very little support from the travel industry. Now that he's been elected, we'll analyze the effects his proposed policies could have on the travel industry. We'll also discuss the effect of Trump himself on the travel and tourism space.
Article continues below advertisement
Travel agents react
According to a survey by travelpulse.com, there were mixed reactions to Trump's win from travel agents across the United States. While some felt that concerned citizens would travel less, others felt that Trump's election wouldn't impact travel in any way.
Some agents expect a last-minute surge in travel once the shock of a Trump win wears off. One agent feels that Trump could bring in policies benefiting the tourism industry, given his own personal interest in the space.
Travel to Canada could rise
According to CNBC, the number of Americans searching for jobs in Canada rose 58% just before the US election. If Americans follow through on these plans, there will be a one-time traffic boost for airlines.
No direct impact
So far, Trump hasn't proposed any policies that will directly affect the travel industry. However, many of his other drastic proposed policies could have a strong impact on the industry. The long-term impact of his presidency is still unclear.
Candidates often say things they don't really mean in the midst of election rhetoric. Many of Trump's promises were vague, and none of his policies provided a clear path to implementation. Things should become clearer once Trump assumes office. One such important policy is his anti-trade policy, which we'll discuss next.
Investors can gain exposure to travel stocks by investing in the iShares Transportation Average ETF (IYT). IYT invests in United Airlines (UAL), Alaska Air Group (ALK), Delta Air Lines (DAL), and Southwest Airlines (LUV).