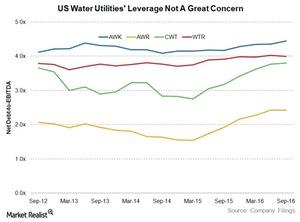 How Is American Water Works' Leverage Compared to Peers?
Leverage
Water utilities generally depend heavily on debt financing due to their capital projects for the longer term, and so a look at company leverages can be useful for investors.
With its ratio of 4.4x, American Water Works (AWK) has the highest net-debt-to-EBITDA (earnings before interest, tax, depreciation, and amortization) multiple in our set of four US water utilities. This is slightly above the company's three-year average multiple of 4.2x.
The net debt-to-EBITDA ratio shows how many years it will take a company to repay its debt based on EBITDA. The ratio is calculated by dividing the net debt of a company by its EBITDA, which means the lower the ratio, the lower the risk.
Article continues below advertisement
Peer comparison
The stable and smooth leverage curves of the four utilities in the graph above indicate the financial discipline and earnings stability of all four companies. Notably, American States Water's (AWR) net debt-to-EBITDA has marginally risen during the past couple of quarters due to increases in its total debt, but the company's multiple is still below those of its peers and the industry average.
By comparison, Aqua America (WTR) has a net debt-to-EBITDA multiple of 4x, and California Water Service (CWT) had a multiple of 3.8x at the end of 3Q16. CWT's multiple has also risen for the past five quarters due to earnings instability and higher debt.
We should note, however, that a hike in interest rates would likely increase these water utilities' (CGW) (FIW) debt-servicing costs, which would ultimately impact their earnings.
In the next part, we'll take a look at the dividends of these water utilities.