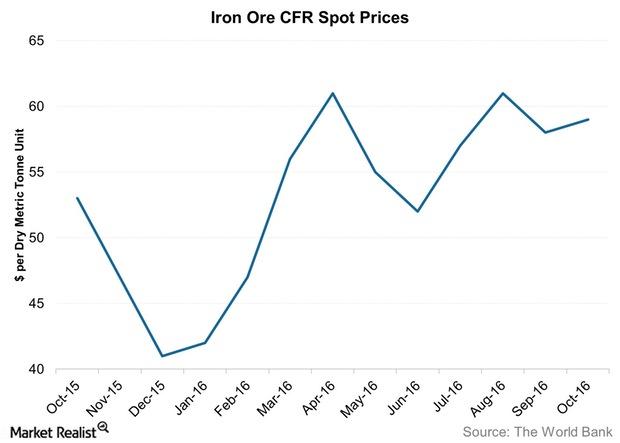 Goldman Sachs Gets Bullish on Commodity Prices
Higher commodity prices
Goldman Sachs (GS) has gone bullish on commodities. The finance major, which is the biggest commodities dealer in terms of sales, has advised its clients to go overweight on commodities. This is the first time in over four years that Goldman has recommended this stance.
Goldman has likely turned bullish on equities due to its view of manufacturing. It expects manufacturing around the world to pick up next year and lead to a rise in demand for commodities.
In its report, Goldman also sounded bullish on iron ore. It raised its estimates for iron ore prices due to the strength in steel usage. Another reason it cited for increasing its price estimates was the recent restocking of inventories of iron ore.
Article continues below advertisement
Article continues below advertisement
China has played a major role
The Goldman Sachs team noted that China's stimulus (FXI) (MCHI) earlier this year led to an increase in demand for iron ore. The team stated that "During the first ten months of 2016, property sales in China increased 27% YoY (year-over-year), auto sales climbed 14%, and excavator sales jumped 17%." On inventory restocking, the team informed that China's port inventory has actually increased in until October 2016, as compared to the destocking witnessed in 2015.
But apart from fundamentals, speculation is also a reason behind the rise in iron ore prices. The Goldman team stated: "In recent months, the renewed CNY depreciation against the US dollar and the government's effort in curbing price appreciation in the real estate market may have led to speculation in the commodities market."
The SPDR S&P Metals & Mining ETF (XME) has had an excellent run so far in 2016. The ETF has returned over 110% in the year so far. Donald Trump's triumph in the US Presidential elections has also provided a fillip to iron ore prices and the XME due to his views on infrastructure spending (IGF).
In the next part of this series, we'll take a look at the state of manufacturing—a prime reason why Goldman has upwardly revised its estimates for iron ore prices.