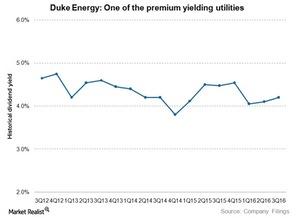 Why Does Duke Energy Yield Better Than the Industry Average?
Duke Energy is one of the highest-yielding S&P 500 Utilities stocks. Its large regulated operations fetch stable earnings and offer stable dividends.
Duke Energy's dividend yield
Duke Energy (DUK) is one of the highest-yielding stocks among the S&P 500 Utilities. Duke's large regulated operations obtain relatively stable earnings and contribute to stable dividends. Duke is currently trading at a dividend yield of 4.6%, whereas the utility average yield currently stands at 3.6%.
Article continues below advertisement
Article continues below advertisement
Peer comparisons
Southern Company (SO) is also a premium yielding utility and is currently trading at a dividend yield of 4.7%. American Electric Power (AEP) also yields ~4%, while peer utilities NextEra Energy (NEE) and Xcel Energy (XEL) currently yield 3% and 3.5%, respectively.
Duke Energy can offer stable dividend income for conservative investors due to its relatively stable earnings. In the past five years, Duke's dividend rose by an annualized 2.4%. Importantly, Duke's management expects its dividend growth rate to double in the next few years.
Piedmont Natural Gas's recently completed acquisition and the company's exit from its merchant generation segment in Latin America could bode well for Duke's earnings growth in the future, which may ultimately support stable dividends.
ETF exposure
The PowerShares S&P 500 High Dividend Low Volatility ETF (SPHD) tracks 50 stocks from the S&P 500's 75 highest-dividend-yielding stocks. Duke Energy and Southern Company make up more than 2% apiece of SPHD's total portfolio. Utilities together make up nearly 19% of SPHD, which could qualify as a solid investment option for conservative investors interested in dividend income with comparatively lower risk.