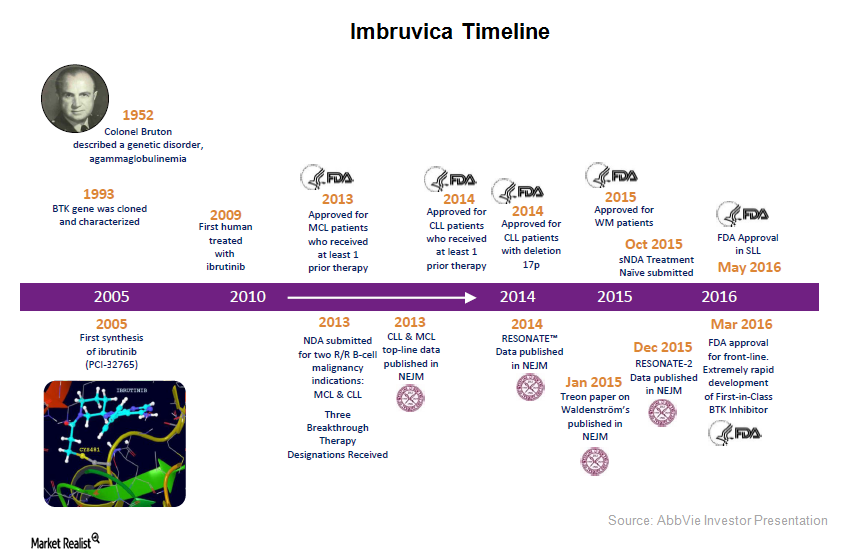 AbbVie's Imbruvica Expected to Become a Leading Oncology Drug
By Margaret Patrick

Nov. 28 2016, Updated 12:04 p.m. ET
Imbruvica growth trends
AbbVie's (ABBV) Imbruvica has become a leader in the second-line-plus chronic lymphocytic leukemia (or CLL) market. Currently, four out of every ten eligible CLL patients opt for Imbruvica. Imbruvica is also making inroads in the first-line CLL market and is chosen by one out of every five eligible patients.
The drug is expected to enable AbbVie to pose strong competition to other oncology players such as Pfizer (PFE), Celgene (CELG), and Merck (MRK).
Article continues below advertisement
Drug approval timeline
The above diagram shows the timeline for Imbruvica, from target validation to approval as a first-line therapy for CLL. To learn more about ongoing research programs for Imbruvica, please refer to Behind AbbVie's Imbruvica: A Comprehensive Development Program for Treatment.
Market trends
Imbruvica expected to aggressively penetrate in first-line CLL segment based on data from multiple ongoing clinical studies. In these studies, Imbruvica is being compared, either as a monotherapy or as a combination therapy, against Bendamustine +/- Rituximab (or BR) or Fludarabine, cyclophosphamide, and rituximab (or FCR) chemotherapy, which are considered to be the standard of care for CLL.
Imbruvica is also tested across multiple patient segments. The data from these trials is expected to strengthen Imbruvica's label and should help boost physicians' confidence in the efficacy and safety profile of the drug.
Imbruvica is also a leader in relapsed and refractory segments of patients suffering with mantle cell lymphoma (or MCL) and Waldenström's Macroglobulinemia (or WM). The drug has also witnessed solid growth in international markets such as Canada and Europe. AbbVie expects to witness similar trends in the new launch market of Japan.
To learn more about the market opportunity for Imbruvica, please read Could AbbVie's Imbruvica Become a Key Growth Driver in 2016?
If Imbruvica continues with its robust growth trends, it may have a positive impact on AbbVie stock as well as the iShares Core S&P 500 ETF (IVV). AbbVie makes up about 0.51% of IVV's total portfolio holdings.
In the next article, we'll analyze the growth trends for AbbVie's oncology drug, Venclexta.