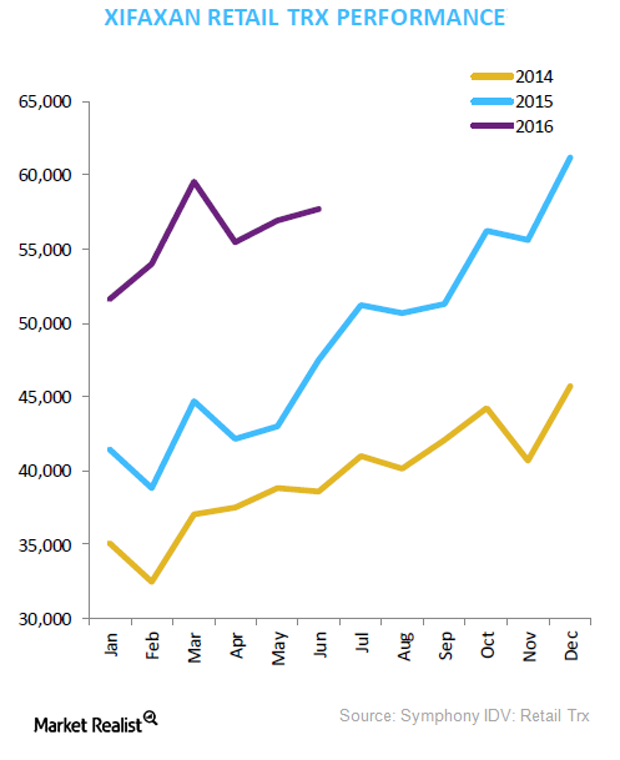 This Space Presents a Market Opportunity for Valeant
Xifaxan growth trends
On February 22, 2015, Valeant Pharmaceuticals International (VRX) announced the acquisition of Salix Pharmaceuticals. The deal added promising gastrointestinal drugs such as Xifaxan, Apriso, Uceris, and Relistor to Valeant's portfolio.
On March 24, 2010, the FDA (U.S. Food and Drug Administration) approved Xifaxan as a therapy for preventing the recurrence of hepatic encephalopathy (or HE) in patients suffering with liver disease. To know more about Xifaxan's growth prospects, please refer to Is Valeant's Xifaxan Resuming Growth?
Article continues below advertisement
In 2Q16, Xifaxan reported a year-over-year increase in monthly prescriptions of about 28.0%, mainly attributed to a rise in refill rates and a lower sales force turnover in the HE segment. Since January 2016, the company has increased the number of sales representatives promoting Xifaxan for HE by about 65.0%. According to IMS Health, Xifaxan earned about $975 million in the year ended December 31, 2015.
According to WebMD, "Hepatic encephalopathy is a brain disorder that develops in some individuals with liver disease. Hepatic encephalopathy is a complex disorder that encompasses a spectrum or continuum of disease that ranges from a subtle condition with no outward signs or symptoms to a severe form that can cause serious, life-threatening complications. Symptoms are related to progressive dysfunction of the brain and may include personality changes, intellectual impairment, impaired memory and loss of consciousness (coma)."
Article continues below advertisement
Hepatic encephalopathy market opportunity
At the Morgan Stanley Global Health Care Conference, Valeant Pharmaceuticals claimed that if all 600,000 HE patients were treated with medication, the total market opportunity would be worth $5 billion. The company also believes that while there's a significant upside for Xifaxan in the HE space, there's still a lot of work to do and many more years before the drug reaches its peak sales value.
Xifaxan faces competition from other drugs in the HE space such as Kristalose, manufactured by Teva Pharmaceutical (TEVA) and Cumberland Pharmaceuticals and packaged by Mylan (MYL).
Generic competition
On February 29, 2016, the FDA accepted Allergan's (AGN) ANDA (Abbreviated New Drug Application), which seeks approval for the company's generic version of Xifaxan 550 mg (milligrams). Allergan is the first applicant to file an ANDA under paragraph IV certification.
If Allergan manages to prove the invalidity of Xifaxan's patents, it may be allowed to launch the generic version. As a leading player in the gastrointestinal space, Allergan already has the sales force and expertise to effectively promote this generic drug, which may prove to be strong competition for Valeant's Xifaxan.
The introduction of a generic version of Xifaxan may affect Valeant's share price as well as the VanEck Vectors Pharmaceutical ETF (PPH). Valeant Pharmaceuticals makes up about 2.9% of PPH's total portfolio holdings.