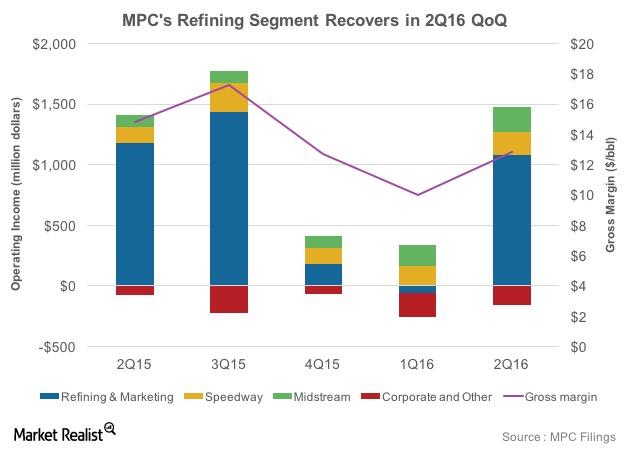 How Will Marathon Petroleum's Refining Earnings Fare in 3Q16?
MPC's refining earnings fell in 2Q16
Before looking at the outlook for Marathon Petroleum (MPC) in 3Q16, let's recap its operating earnings trend in 2Q16.
Marathon's operating income fell 1.0% over 2Q15 to $1.3 billion in 2Q16. The refining segment's operating income fell to $1.1 billion in 2Q16. This was due to a fall in the gross refining and marketing margin by $2 per barrel over 2Q15 to $12.80 per barrel in 2Q16. However, the refining earnings improved quarter-over-quarter in 3Q16.
Article continues below advertisement
MPC's peers PBF Energy (PBF) and Phillips 66 (PSX) saw their gross refining margins fall $2.90 and $4.60 per barrel, respectively, to $6.50 and $7.10 per barrel, respectively, in 2Q16 compared to 2Q15. For a cross-sectional analysis of refining stocks, please refer to What You Learn When You Compare Refiners MPC, TSO, VLO, and PSX. For exposure to refining and marketing sector stocks, you can consider the iShares North American Natural Resources (IGE). The ETF has a ~6.0% exposure to the sector.
In 2Q16, MPC's operating income from Speedway rose 52.0% to $193 million over 2Q15. The midstream segment's 2Q16 operating income rose 95.0% over 2Q15 to $201 million.
MPC's refining earnings outlook for 3Q16
In 3Q16, according to MPC, blended LLS (Light Louisiana Sweet) crack has fallen $4.10 per barrel over 3Q15 to $8.10 per barrel. The LLS-WTI (West Texas Intermediate) spread also fell $2.20 per barrel YoY (year-over-year) to $1.60 per barrel in 3Q16. But the sweet-sour differential rose $0.40 per barrel YoY to $6.30 per barrel.
According to MPC, a dollar-per-barrel change in the blended LLS 6-3-2-1 crack spread affects its annual net income by $450 million. Similarly, dollar-per-barrel changes in sweet-sour and LLS-WTI affect its income $220 million and $90 million, respectively. In 3Q16, the YoY rise in the sweet-sour differential is likely to be offset by the YoY falls in the blended LLS crack and the LLS-WTI spread.
However, QoQ (quarter-over-quarter), the indicators have resulted in a mixed performance. In 3Q16, blended LLS crack has risen $0.42 per barrel QoQ. But the LLS-WTI spread and the sweet-sour differential have fallen $0.16 per barrel and $0.63 per barrel QoQ, respectively.