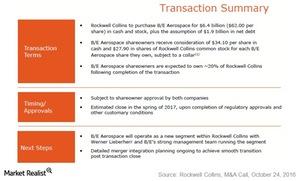 The Strategic Rationale behind the Rockwell Collins–B/E Aerospace Deal
By Shannon Black

Oct. 26 2016, Updated 10:04 a.m. ET
Rockwell Collins's latest acquisition
There is little overlap between the product portfolios of Rockwell Collins (COL) and B/E Aerospace (BEAV), which the company referenced in its conference call. Rockwell Collins manufactures high-value avionics and electronic components.
B/E Aerospace supplies interior aircraft products such as seating, oxygen masks, storage equipment, and lavatories. However, with B/E's portfolio in tow, Rockwell Collins intends to expand its offerings in its current market channels.
The deal is also expected to diversify the end-market distribution of Rockwell Collins. In fiscal 2016, its government and commercial aircraft revenues were both responsible for ~42% of its sales.
Given the headwinds related to US military (XAR) spending, the combination—which is likely to have commercial aircraft exposure of over 60%—is designed to mitigate those challenges.
Article continues below advertisement
Rockwell Collins, B/E Aerospace have differing drivers
Rockwell Collins (COL) is susceptible to the cycles inherent in original equipment production. When the aircraft original equipment manufacturers (or OEMs) reduce their production rates, Rockwell Collins's core business takes a hit as well.
B/E Aerospace's business, on the other hand, is driven more by air traffic growth and airline profitability. Currently, a significant number of wide-body aircraft are being returned by airlines to their lessors. When these aircraft come back to the lessors, they are reconfigured. This process presents opportunities for cabin retrofits. Such opportunities for upgrades do not exist in Rockwell Collins's business.