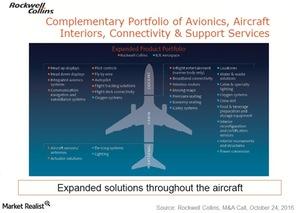 Cost Synergies from the Rockwell Collins–B/E Aerospace Deal
By Shannon Black

Oct. 26 2016, Updated 11:04 a.m. ET
Rockwell Collins and B/E Aerospace excluding synergies
Rockwell Collins (COL) and B/E Aerospace (BEAV) generated ~$5.3 billion and ~$2.9 billion in revenues, respectively, in the 12-month period ended September 30, 2016. The combination, excluding synergies, would have had revenues of ~$8.1 billion and EBITDA[1. earnings before interest, tax, depreciation, and amortization] of ~$1.9 billion. Rockwell Collins expects to realize significant cost and revenue synergies, which we'll discuss in this article and in the next part.
Article continues below advertisement
Cost synergies expected by Rockwell Collins
Rockwell Collins (COL) stated that it expects to realize pretax cost synergies of $160 million. In after-tax terms, the numbers are around $125 million, as some of the synergies are located in favorable tax jurisdictions.
Plus, 90% of the $160 million are expected to be realized by the second year after integration, or by fiscal 2019.
Source of the synergies
Rockwell Collins (COL) intends to realize these synergies in four areas, the first of which is through the elimination of public company costs and the consolidation of headquarters. The second overlap is in the supply chain, where Rockwell Collins plans to drive down costs by sourcing common materials using the combined might of the two organizations.
The last two areas concern the consolidation of the IT infrastructure and its low-cost country manufacturing and engineering capability. The low-cost manufacturing is concerned mostly with the design centers of the two companies in Hyderabad, India. Because both design centers are located in the same city, it should allow the company to consolidate and leverage the strength of low-cost engineering to a greater extent.