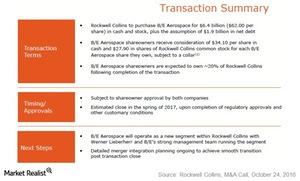 Rockwell Collins Acquires B/E Aerospace in a Deal-Making Weekend
Rockwell Collins to acquire B/E Aerospace
October 22–23, 2016, has been one of the busiest deal-making weekends on Wall Street this year, highlighted by AT&T's (T) bid to buy Time Warner (TWX) for a total transaction value of $108.7 billion. Also included in this acquisition spree is Toronto Dominion's (TD) $2.7 billion deal to purchase Scottrade's banking unit. It's almost as if the aerospace industry (XAR) was unwilling to be left out.
On October 23, Rockwell Collins (COL) announced that it intends to acquire B/E Aerospace (BEAV) for a total consideration of $8.3 billion. The total consideration includes $6.4 billion in cash and stock received by B/E's shareholders and the assumption of $1.9 billion debt of the target by Rockwell Collins.
Article continues below advertisement
Article continues below advertisement
The shareholders of B/E Aerospace will realize a 23% premium over the stock price on October 21, receiving $34.10 in cash and $27.90 of Rockwell Collins shares for each stock that they own. This implies that after the deal is closed, BEAV's shareholders will end up owning 20% of Rockwell Collins. The deal is expected to be closed in spring 2017 following regulatory and shareholder approvals.
Management of B/E Aerospace
Amin Khoury, the founder and chairman of B/E Aerospace, will retire after the deal is closed. When he founded the company, it had revenues of $3 million in 1987. The company had revenues of ~$2.9 billion in the trailing 12-month period.
Within Rockwell Collins, B/E Aerospace will operate as its new Aircraft Interior Systems segment. Werner Lieberherr, the CEO of B/E Aerospace, as well as its existing management personnel, will lead the segment after the deal is closed.