Why Philip Morris's iQOS Sales in Japan Are Promising
According to the WHO, under the current regulatory regimes, the percentage of the cigarette smoking population is expected to fall from 22% to 19% by 2025.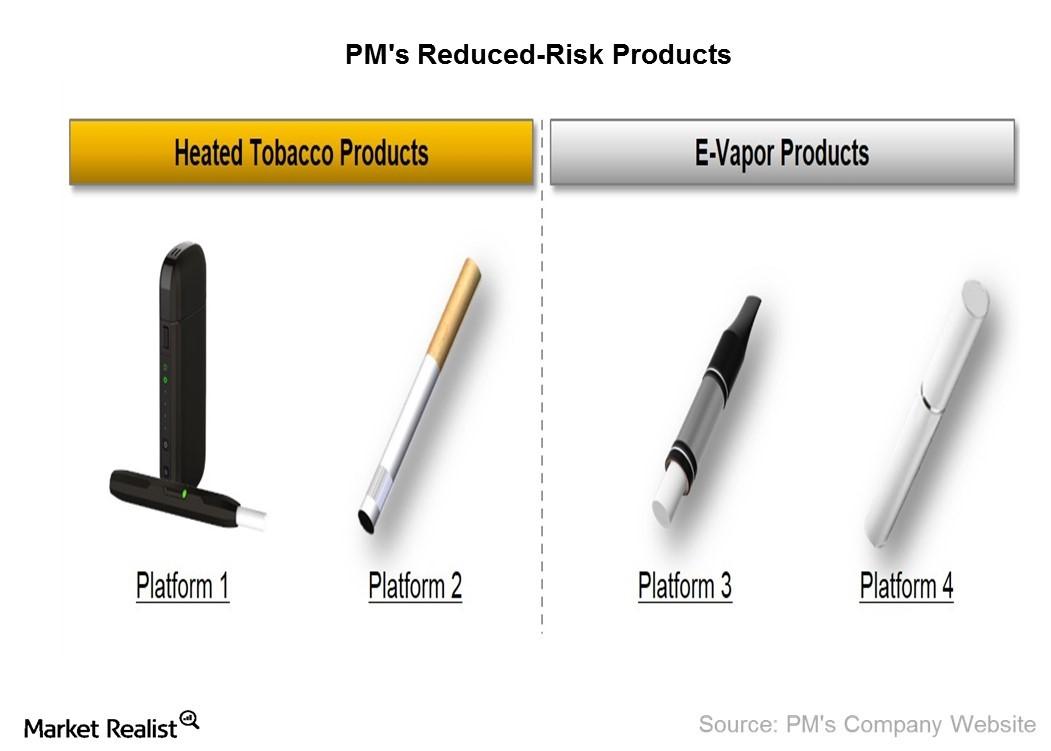 Why are RRPs so important to PM?
According to the WHO (World Health Organization), under the current regulatory regimes, the percentage of the cigarette smoking population is expected to fall from 22% to 19% by 2025. However, the total number of smokers are expected to remain constant at 1.1 billion due to population growth. If additional restrictions are added, however, the percentage is expected to reduce to 16%, or to about 900 million smokers.
To improve the health and daily quality of life of more than 1 billion smokers—and to enhance Philip Morris International's (PM) business growth—RRPs (reduced-risk products) are crucial for PM, and RRPs also have higher average net revenue potential.
Philip Morris has highlighted the following four RRP platforms:
Article continues below advertisement
Article continues below advertisement
Platform 1 is a more progressive offering that uses electronics to heat a tobacco stick to generate a nicotine-containing aerosol. PM has developed a controlled heating device and has commercialized it under iQOS brand name.
Platform 2 uses carbon heat source instead of electronics to heat the tobacco product. This product generates a nicotine-containing aerosol.
Platform 3 is said to replicate the feel and ritual of smoking by generating an aerosol of a nicotine salt, which will be formed by the chemical reaction of an organic acid and nicotine.
Platform 4 refers to Philip Morris's portfolio of e-cigarette products. This platform generates nicotine-containing aerosols by heating a liquid.
As of September 2016, PM has commercialized Platform I RRP and has prepared for the initial commercialization of Platforms 2 and 4. Platform 3 is still in pre-clinical and clinical testing stage.
Peers British American Tobacco (BTI), Reynolds American (RAI), Altria Group (MO), and Vector Group (VGR) have also entered the RRP business with Vype (BTI), Vuse (RAI), and Zoom (VGR) products.Investments and economics of RRP
In 2014, PM launched iQOS in Nagoya, Japan, and Milan, Italy, as a pilot project. Later, the RRP was expanded to ten markets in select cities of Switzerland, Russia, Denmark, Germany, and in Monaco. The company is planning to expand to 20 markets by the end of fiscal 2016.
In Nagoya, Japan, the market share of HeatSticks had increased to 5.2% by mid-September 2016, as compared to 0.7% during the same period in 2015. The company claimed that about one million people had converted to iQOS, with 70% of the iQOS purchasers either fully or predominantly converted to the product.
To support its commercialization of RRPs, Philip Morris has increased its investments to expand its planned annual heated tobacco stick production capacity to 50 billion units. So the company has increased its investment expenditure estimate to $1.2 billion for 2016 and to $1.5 billion for fiscal 2017.
Now let's look at PM's margins and profitability.