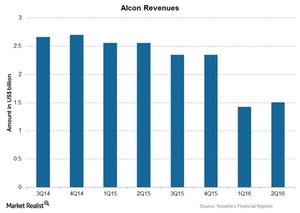 Novartis's 3Q16 Estimates: Will Alcon Recover Its Growth?
Alcon, the eye care business
Alcon, Novartis's (NVS) eye care segment, researches, develops, manufactures, and markets eye care products in over 180 countries worldwide.
The business is now divided into two subsegments: surgical care and vision care. The ophthalmic pharmaceuticals business was transferred to the Innovative Medicines segment in 2Q16.
Analysts expect Alcon's 3Q16 revenue to fall due to lower equipment sales in the surgical franchise and lower contact lens products sales in the vision care franchise.
Article continues below advertisement
Article continues below advertisement
Surgical sales
Global surgical sales have reported lower equipment sales, particularly for LenSx technology, in Asia and the United States in recent quarters. The sales of intraocular lenses have also been affected by volume declines in ReSTOR multifocal lenses and by competition in monofocal lense sales. However, the surgical franchise has noticed continued uptake in cataract consumables.
Vision care
Global sales of vision care products have shown a falling trend due to the continued shift of consumers to daily disposable lenses, affecting sales of contact lens care products. This change is substantially offsetting growth and continued uptake for the Dailies Total 1, AirOptix Colors, Dailies AquaComfort Plus Toric, and Dailies AquaComfort Plus multifocal products. Estimates show a falling revenue trend for the vision care franchise in 3Q16.
Overall, Alcon's 3Q16 revenue is estimated to remain fairly constant on a constant-currency basis. A strong base of installed surgical equipment and other products with positive growth will likely offset the segment's lower surgical and vision care product sales.
Ophthalmic pharmaceuticals products such as Patanol were transferred from Alcon to the Innovative Medicines segment in 2Q16.
To divest risk, investors may want to consider ETFs such as the PowerShares International Dividend Achievers ETF (PID), which holds 1.1% of its total assets in Novartis. PID also holds 2.4% of its total assets in GlaxoSmithKline (GSK), 1.4% in Sanofi (SNY), and 1.1% in Teva Pharmaceuticals (TEVA).