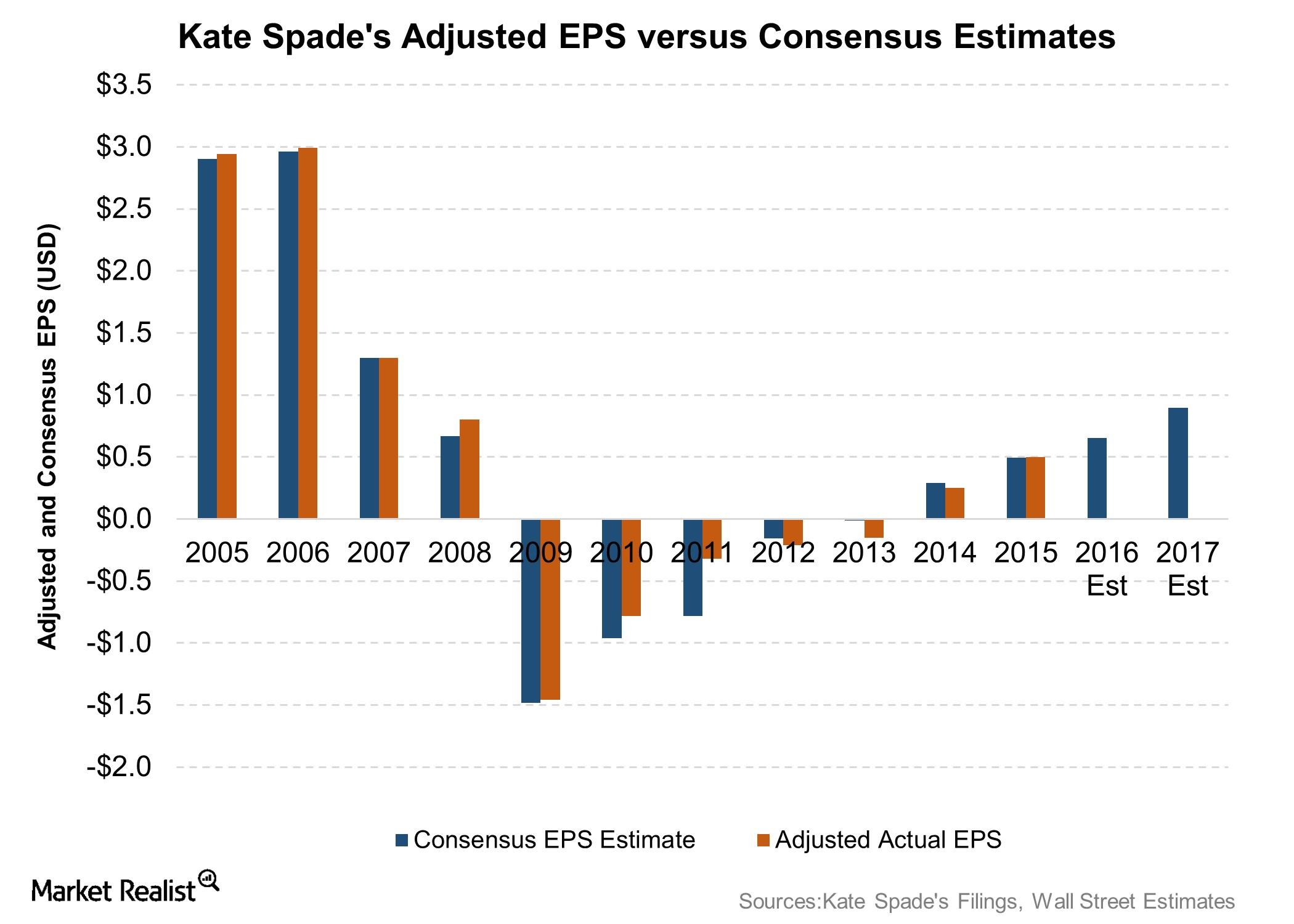 How Will Kate Spade's Fiscal 2016 Performance Shape Up?
Second quarter obstacles lead to outlook revision
As a result of its second quarter headwinds, Kate Spade (KATE) lowered its full fiscal 2016 outlook. The company now expects its sales to lie in the $1.39 billion–$1.41 billion range as compared to the previous expectation of $1.37 billion to $1.4 billion. EPS forecasts were also lowered to the 63–70 cent band, compared to 70–80 cents in earlier guidance.
Sales comps are projected to grow at a high-single-digit to low-double-digit rate in fiscal 2016 as compared to the low-teen to mid-teen growth guidance provided earlier.
Adjusted EBITDA is predicted to lie between $242 million to $260 million, while the EBITDA margin is expected to expand between 100 to 200 basis points.
Article continues below advertisement
2H to be better than 1H16
The company's management is expecting a stronger 2H16 as a result of its product initiatives and the cadence of Kate Spade's flash sale events. These factors are likely to produce a sequential improvement of 300 to 700 basis points in sales comps in 2H16 as compared to 2Q16.
The company also expects to reap benefits from its ongoing initiatives in the areas of supply chain improvements, licensing penetration, and SG&A leverage. However, a promotional environment might continue to wash away some of the gains.
Wells Fargo updated Kate Spade in mid-September, citing strong expected momentum in its 2H16 top line and a compelling long-term margin opportunity as the key reasons for the update. Read the next section for a view on Wall Street's forecasts, ratings, and recommendations.
Wall Street's view on Kate Spade's fiscal 2016 earnings
Wall Street has predicted that Kate Spade's fiscal 2016 earnings per share will grow 30% to $0.65 in line with the company's guidance. For the third quarter ending September 2016, Wall Street predicts EPS growth of ~38% on 13% sales growth. EPS is expected to be $0.08 as compared to $0.06 in 3Q15.
Competitors Michael Kors (KORS) and Coach (COH) will also report their earnings in early November. Analysts are expecting Coach's earnings to rise 9% while Michael Kors' earnings are expected to rise 1% in their next quarters.
ETF investors seeking to add exposure to Kate Spade can consider the iShares S&P Mid-Cap 400 Growth ETF (IJK), which invests 0.11% of its portfolio in the company.