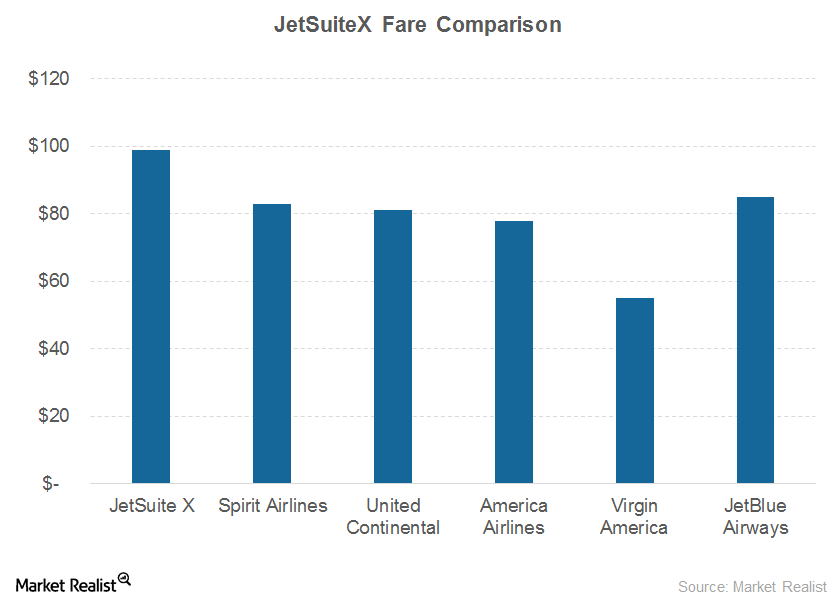 JetBlue's New Investments: A Pioneer in Private Jet Services?
New investment
During its earnings call on Tuesday, JetBlue announced that it had undertaken a small stake (the exact stake is unclear) in JetSuite, the fourth-biggest private jet operator in the United States. What makes the investment worthwhile is JetSuite's recent launch of commercial operations, JetSuiteX.
Article continues below advertisement
How do they operate?
JetSuiteX is which is classified as a public charter airline. This means it can operate at private terminals and passengers don't need to clear their security. Passengers can thus arrive only 15–30 minutes prior to departure.
Fleet
JetSuite flies the Embraer (ERJ) E135s. Since a public charter can only have 30 seats, these Embraer planes have seven fewer seats than the normal E135s. That gives passengers ample legroom and flying comfort. By 2017, the company plans to own ten of these planes. JetSuite bought these planes at cheap rates from regional arms of Delta Air Lines (DAL), American Airlines (AAL), and United Continental (UAL) that don't use these planes anymore due to reduced fuel efficiency.
Article continues below advertisement
Where do they operate?
Currently, JetSuite flies only to six destinations on the West Coast, including Burbank, San Jose, Carlsbad Las Vegas, Bozeman in Montana, and McClellan–Palomar Airport, near San Diego.
It plans to add San Diego, Santa Barbara, and Phoenix to its destinations.
How much does it cost?
A one-way fare on JetSuite from Burbank to Las Vegas costs $99—slightly higher than airlines that charge $82 on average.
Will it work?
According to JetBlue's CEO Robin Hayes, "We just see a great opportunity on the West Coast in terms of offering customers a much more convenient alternative in terms of how to fly."
The deal could, in fact, open up many opportunities on the West Coast. The aim is to provide private jet like services at commercial fares. Ever since JetBlue lost out the Virgin America (VA) bidding war to Alaska (ALK), it has been on a West Coast expansion spree. This investment in another step in that direction. If it's successful, it could mean another profitable venture for JetBlue after the launch of its premium Mint service. Investors can undertake exposure to JetBlue by investing in the iShares S&P Mid-Cap 400 Growth ETF (IJK), which invests 0.8% of its portfolio in JBLU.