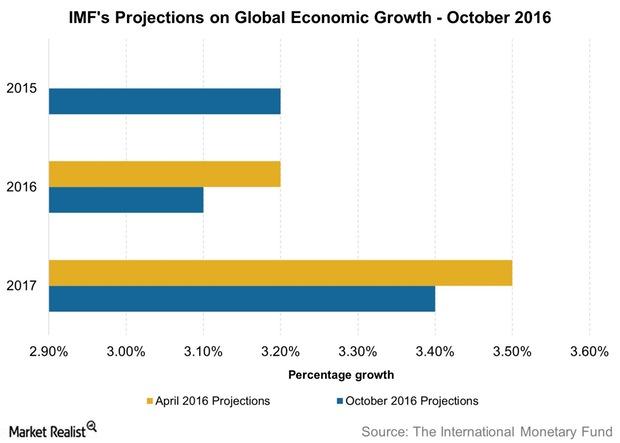 International Monetary Fund Weighs in on Slowing Global Economy
IMF forecasts slower growth
In its October World Economic Outlook report, the IMF (International Monetary Fund) estimated that the global economy will likely continue to slow down. The IMF estimates that the global economy will grow 3.1% in 2016 and pick up to 3.4% in 2017. Both these estimates are lower by 0.1 percentage point from the previous estimates released in April 2016.
Among the macroeconomic factors that have impacted the IMF's outlook for the global economy are:
new shocks
ongoing realignments
slow-moving trends
Article continues below advertisement
Factors impacting outlook
Among new shocks, the IMF counts the referendum by Britain to exit the European Union, whose "leave" vote surprised many.
Ongoing realignments for the IMF include the structural changes going on in China, which involve shifting growth focus from outward to inward. It also includes the adjustment required by commodity exporting countries to an extended fall in trade.
Meanwhile, the IMF includes demographics and the progress of productivity growth among slow-moving trends. The institution holds that slow productivity growth is negatively impacting income growth and is "contributing to political discontent."
Impact on investments
Slower-than-expected growth in a country or a region is not a favorable sign for investments in that geography, because if economic fundamentals have weakened and are impacting growth, these factors will sooner or later translate into lower returns on financial markets in that geography. A slow-growing global economy can also impact ETFs like the iShares MSCI ACWI ETF (ACWI) and the Vanguard Total World Stock ETF (VT).
In this series, we'll look at the macro trends seen by the World Bank for various regions (EPP) (SCHE) (IEV) and countries of the world (MCHI) (PIN) and see how it will impact investments in those geographies.