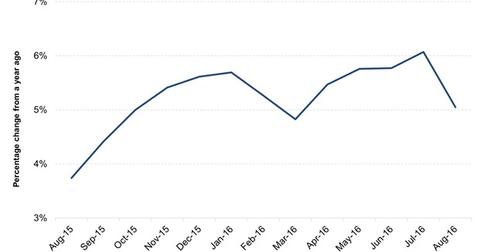 How the Fall in Inflation Helped the RBI Slash the Repo Rate in October
By David Ashworth

Updated
Measures of inflation in India
The RBI (Reserve Bank of India) considers the CPI (consumer price index) as its primary gauge of measuring inflation. Prior to the RBI adopting the CPI, in India (PIN) (FINGX), another measure of inflation, the WPI (wholesale price index), was its key gauge of inflation and is still considered for reference. (To know more about these measures of inflation, please refer to Market Realist's "India's Different Inflation Measures—WPI versus CPI.")
Article continues below advertisement
The RBI has CPI growth targets to adhere to while deciding its monetary policy stance. By January 2016, it was supposed to keep inflation below a target of 6%, which it was able to do. Its next target is to keep inflation at or below the 5% mark by March 2017. A look at the graph below will give you the reason why the RBI had held off a repo rate cut since April until September.
Consumer inflation was on the rise
The fall in crude oil prices, which began in mid-2014 and pummeled the stocks of companies like Royal Dutch Shell (RDS.A), Total (TOT), and Tenaris (TS), was very beneficial for India, which is a net importer of the commodity. The fall helped the rate of CPI growth decline from 7% in August 2014 to 3.3% in November 2014.
However, so far in 2016, the rate of retail inflation has stayed above 5% for all months until August except March. In fact, the pace of 6.1% seen in July was the highest in two years.
Recent decline gave confidence
But the fall in India's inflation rate in August (the latest available reading) has been the primary reason for the confidence of the MPC (Monetary Policy Committee) of the RBI in effecting a repo rate cut on October 4. For August, the policy statement noted that "the momentum of food inflation turned negative and surprised expectations…consequently, base effects in that month came into full play and pulled down headline inflation to an intra-year low."