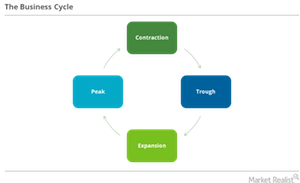 We're in 'an Environment of Abnormally Slow Growth,' Says Dalio
This isn't a normal business cycle
Billionaire hedge fund manager Seth Klarman said, "the stock market is the story of cycles and of the human behavior that is responsible for overreactions in both directions."
Ray Dalio believes that this isn't a normal business cycle. In our April 2015 series Business Cycle Investing: What Should You Look For?, we suggested that the US economy is in the expansion stage of the business cycle.
Later, in April 2016, the economy seemed to be going through the contraction phase of the business cycle. The economy (SDS) (TZA) (SQQQ) was slowing, the stock market seemed bearish, GDP growth was around or below 2%, and investors were looking for safety stocks amid heightened market uncertainty.
Article continues below advertisement
However, what investors shouldn't fail to notice is that it is the global monetary policy that is distorting the business cycle. While the central bankers' zero-rates regime was initiated to spur economic growth and spending, it has, in hindsight, led to the creation of asset bubbles—a market where every asset price is artificially inflated.
"An environment of abnormally slow growth"
Look at the US market (IVV) (VOO), for instance. The economy's fundamentals are improving. Unemployment is low, at 5%, and inflation is rising slowly but steadily. Growth, however, remains anchored and affected by more than just domestic factors. We're in "an environment of abnormally slow growth," as described by Dalio. At a 1.4% annualized growth rate, as recorded in the second quarter this year, the economy seems to be struggling to breach the 2% mark.
Interest rates have been low for some time now, yet business spending is stuck in low gear. This definitely isn't a normal business cycle.