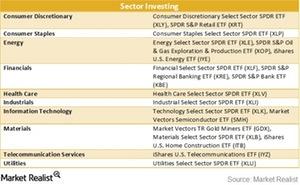 An Investor's Key Guide to Business Cycle Investing
Understanding business cycle investing is important
There are two broad categories of investors. One follows the "bottom-up" approach to investing, like Warren Buffet. The other follows a "top-down" approach, like Howard Marks. Within these categories are many different styles, combinations, and holding periods, but the inputs into the analytical remain the same.
Bottom-up investors don't pay much attention to business cycles. They focus solely on individual stocks on the belief that these will outperform the industry or index performance. However, identifying such stocks in the universe of stocks is like looking for a needle in a haystack. For those investors who believe that a rising tide lifts all boats, as John F. Kennedy once said, understanding business cycle investing is a must.
Article continues below advertisement
Article continues below advertisement
Sector-specific ETFs aid sector investing
In the top-down approach, the prospective investor analyzes the macroeconomic environment to identify industries that are expected to outperform in a particular phase of the business cycle. Then the investor makes his or her pick of stocks that are expected to perform well within that industry.
For example, an investor who has identified prospects for the technology sector to outperform in the near future might prefer investing in the Technology Select Sector SPDR ETF (XLK). The ETF tracks US technology sector equities such as Apple (AAPL), Google (GOOG), and Microsoft (MSFT). Similarly, an investor who has confidence in the healthcare sector might consider the Health Care Select Sector SPDR ETF (XLV). These sector-specific ETFs help investors gain exposure to particular sectors of the economy.
From a macro perspective on the economy and business cycle phase prevalent in the economy, to identifying which industry will generally outperform in such a situation, to identifying stocks with strong fundamentals and good prospects, this approach provides a defined and structured path for investors.