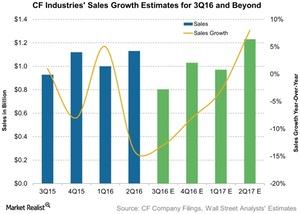 CF's 3Q16 Sales Estimate Shows a Common Trend in the Industry
CF's sales
CF Industries' (CF) sales segment includes UAN (urea ammonia nitrate), AN (ammonia nitrate), ammonia, and granular urea. Of these five reported segments, CF earned most of its sales—one third—from the UAN segment, followed by ammonia and granular urea. Now, let's look at analysts' sales estimates for 3Q16.
Article continues below advertisement
Sales estimates
For 3Q16, Wall Street analysts expect sales of $0.79 million for CF Industries. This would mean a 14% fall from the corresponding quarter a year ago in 3Q15. For 2016, CF's sales are expected to fall 8%.
This isn't the first time CF is expected to see a sales fall year-over-year. In the last three consecutive years, CF's sales have fallen 10%, 13%, and 9% in 2013, 2014, and 2015, respectively. However, analysts estimate that the company will break this trend next year by posting sales growth of 7% year-over-year.
A common trend
The above trend appears to be common for the industry (NANR). PotashCorp (POT), The Mosaic Company (MOS), and Agrium (AGU) are also expected to report sales falls in 2016 and sales rises in 2017.
Much of CF's and the above peers' sales are driven by shipment volumes and average realized fertilizer prices. Read our detailed analysis at CF Industries Plants Seeds of Doubt in 2016 to know more.
Next, let's turn our attentions to CF's gross margin.