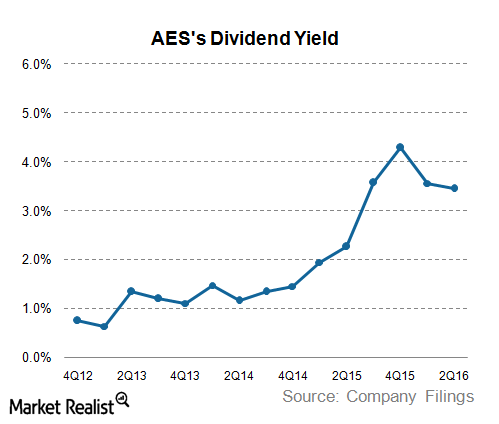 A Look at AES's Dividend Yield
By Vineet Kulkarni

Oct. 5 2016, Updated 1:04 p.m. ET
Dividend yield
AES's (AES) dividend yield has improved significantly in the last couple of years. The 10% fall in dividends in 2016 is among one of the highest in the industry. The company paid a dividend of $0.40 per share in 2015, which was a rise of 100% compared to 2014. Its three-year average rise in dividends is nearly 40%.
AES management forecasts that the company's cash flow will rise significantly in 2016, enough to support its projected annual dividend rise of 10%.
Article continues below advertisement
An industry comparison
Currently, AES's dividend yield is around 3.7%, which is in line with the industry average. By comparison, industry giant Duke Energy's (DUK) yield is more than 4.2%, while PPL's (PPL) is nearly 4.2%. Regulated utilities' earnings are less volatile and generally pay stable dividends.
AES has significant exposure to unregulated operations. With its currency risks, it tends to have more volatility in earnings, which, in turn, may lead to more uncertain dividends.
Higher risk generally needs to be compensated with higher yields. Xcel Energy (XEL) and WEC Energy (WEC) are almost entirely regulated utilities, trading at forward yields of 3.2% and 3.1%, respectively.
ETF exposure
The PowerShares S&P 500 High Dividend ETF (SPHD) is a fund that tracks 50 stocks filtered from the S&P 500's 75 highest dividend-yielding stocks. AES makes up nearly 2% of SPHD's total portfolio. Utilities make up nearly 19% of SPHD, so SPHD represents a strong investment alternative for conservative investors interested in fetching dividend income with lower risk.