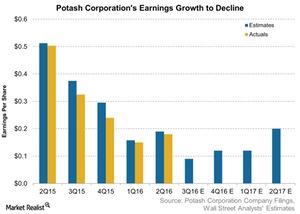 History's Not on POT's Side when It Comes to Earnings Growth
PotashCorp's earnings
Article continues below advertisement
3Q16 earnings
In 3Q16, analysts are estimating that PotashCorp will report adjusted EPS (earnings per share) of $0.09. That's a fall of 72.0% from $0.32 in 3Q15. For 2016, analysts are estimating a 66.0% fall in earnings to $0.52 per share. For 2017, they're estimating the company's earnings to rise 32.0% to $0.68 per share.
Tread cautiously
When we look at the past five quarters, we see that PotashCorp has missed all its earnings estimates. This may mean that analysts were either too optimistic or market conditions deteriorated faster than their expectations. However, you should tread cautiously when using analysts' estimates in your investment decisions.
Prices for fertilizers have been falling, which has affected companies such as PotashCorp, CF Industries (CF), Intrepid Potash (IPI), and Mosaic (MOS). A reversal in fertilizer prices will surely lift investor sentiment for these companies.
You can track fertilizer prices weekly on our website. For more information, read the latest report, Why Was Last Week Negative for Agricultural Fertilizer Companies?
In the final part of this series, we'll look at analyst recommendations and price targets for PotashCorp before its 3Q16 earnings release.