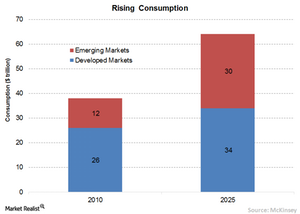 Young People, Middle Class Contributing to E-Commerce Growth
By Peter Barnes

Updated
Where the growth is
Emerging market economies (EEM) have followed diverse trends that may drive global growth in the coming decades. These trends include favorable demographics, consumption-led economic growth, rapid urbanization, and income growth.
Article continues below advertisement
Favorable demographics
Many emerging countries (VWO) are characterized by a rising middle class and a relatively young population compared to developed markets. Research shows that middle class consumers in emerging markets (SCHE) are expected to reach around 2 billion by 2020. Plus, young populations are driving consumption patterns in many emerging countries. For instance, Brazil and India (INDA) have a median age of 30.7 years and 27 years, respectively, compared to Japan and Germany with a median age of 46.1 years each.
Increasing consumption
Buoyed by the rising middle class, annual consumption in emerging markets (EMQQ) will rise to a whopping $30 trillion by 2025 from $12 trillion in 2010, according to McKinsey Global Institute's analysis. During the same period, emerging markets' share of world consumption will increase from 32% to 47%, a huge gain. The numbers say it all. It's an enormous market and a large growth opportunity for corporates to explore.
Finding winners
The big question for investors is how to find the winners from this exponential growth story and what the key factors influencing the investment landscape in this scenario are. The answer lies in the Internet and E-Commerce space in emerging markets, which has transformed the traditional business framework and revolutionized commerce. Rather than selecting stocks individually, one can gain access to the space as a whole by investing in EMQQ. By investing in an ETF rather than single stocks, an investor may be able to avoid some of the volatility that can come with holding a single position.
In the next part of this series, we'll look at E-Commerce in emerging markets.