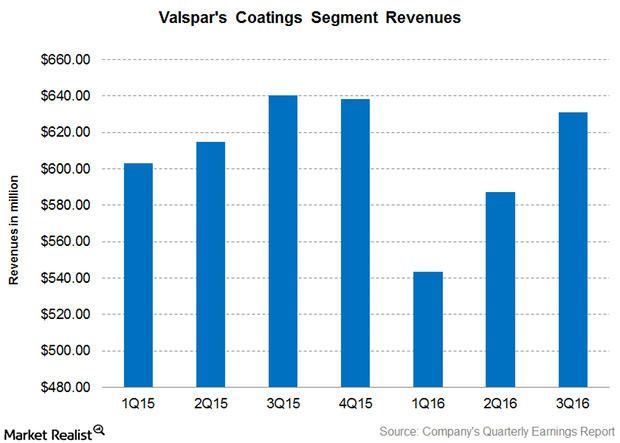 Why Did Valspar's Coatings Segment Revenue Fall in 3Q16?
Valspar's coating segment
Valspar (VAL) reports its revenue under two segments, namely: the coatings segment and paints segment. In 3Q16, Valspar's coating segment reported revenue of $631 million, representing 55.3% of Valspar's total revenue. In 3Q15, this segment reported revenue of $640.2 million. The 3Q16 revenue fell 1.4% year-over-year. The decline in the segment's sales is mainly due to the negative impact of foreign currency translations to the tune of ~2.6%. However, this impact was partially offset by the increase in sales from coil and wood product lines to the extent of ~1.2%. In the past seven quarters, the segments' revenue grew at a compound growth rate of 0.7%.
Article continues below advertisement
Coatings segment adjusted EBIT and margins
Valspar's Coating segment reported adjusted EBIT (earnings before interests and taxes) of $127.1 million in 3Q16 versus $119.9 million in 3Q15. This difference implies an increase in adjusted EBIT of 6% year-over-year. Valspar's adjusted EBIT margins for 3Q16 stood at 20.1% compared to 18.7% in 3Q15. This difference implies an increase of 142 bps (basis points) in adjusted EBIT margins on a year-over-year basis. The increase in adjusted EBIT and margins was mainly driven by the benefits from Valspar's productivity initiative.
As of September 5, the iShares S&P Mid-Cap 400 Growth ETF (IJK) invested 0.62% of its total holdings in Valspar. The ETF's top three holdings include Idexx Laboratories (IDXX), Whitewave Foods (WWAV), and Resmed (RMD) with weights of 1.4%, 1.35%, and 1.3%, respectively. In the next part of this series, we'll look into the performance of Valspar's painting segment in 3Q16.